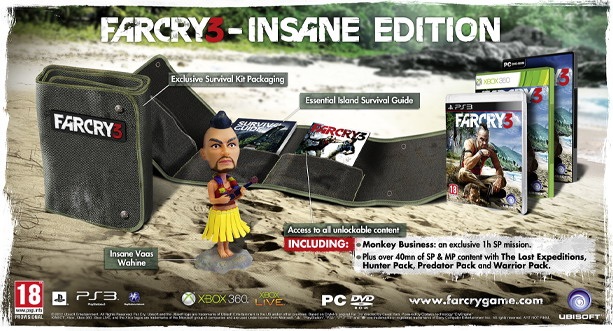 Ubisoft have announced a shiny and slightly scary collector's edition for Far Cry 3 which will be available on all three platforms that Far Cry 3 is being developed for, pre-orders of this "Insane edition" are currently only available in the UK at the moment though.
Far Cry 3's Insane Edition includes: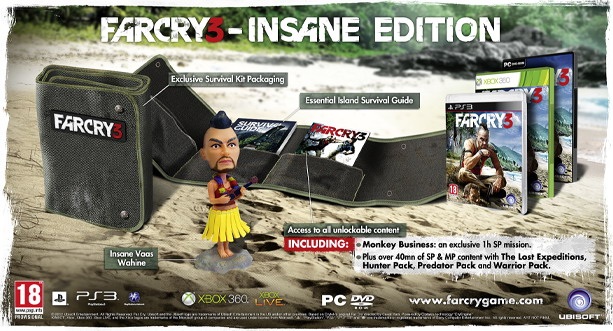 A 12cm Vaas Wahine with bobble head!
Monkey Business - Discover Hurk, a new memorable character and quest giver, and his four unique missions (1 hour additional gameplay)
The Lost Expeditions -Two suspenseful action packed missions totalling over 40 minutes of additional gameplay and an exclusive weapon (The Japanese gun)
The Hunter Pack — The M700 hunting rifle and its three collector's skins.
The Warrior Pack - A handcrafted dagger and two exclusive tribal tattoos.
The Predator Pack - Four exclusive rare predators and a multiplayer bow.
An 'Insanity Guide' containing hints and tips to help you survive the island
I must say this is one of the creepiest collector's editions announced to date, purely because of the bobble head, however with that said, the Survival Kit packaging looks like a nice choice and is a nicer size compared to the wooden box for the Far Cry 2 collector's edition.
Far Cry 3 is set for release on September 7th on Xbox 360, Playstation 3 and Windows, you can pre-order this Insane edition off the Ubishop now for £59.99 on consoles and £49.99 on Windows.