Iceberg Interactive have announced that they will be publishing Family Farm; a new sim that combines the addictive elements of farming and life simulation games, and so bringing together the cute addictive nature of Harvest Moon, and the family building need of The Sims. Family Farm puts you in control of a small family farm inhabited by various characters; each with their own skills and needs.
Like any good Harvest Moon, as your family grows, so will your house, and to top it off, your farm can be extended into the surrounding areas with enough money, with undoubtedly loads of different crops and livestock this is going to be one game that you certain people will be unable to keep their hands off.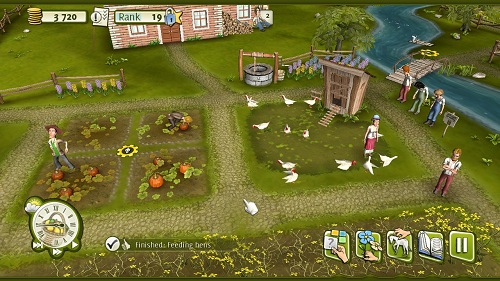 Iceberg Interactive CEO Erik Schreuder says: "We believe that with Family Farm we can make a significant entry into the casual market. So far we have focused on certain niche genres to establish ourselves, but with Family Farm we strive to reach a very broad audience indeed. Family Farm has a combination of cute graphics, tycoon and time management gameplay features and life-sim elements, such as feeding the working crew, newborns that grow up to work on the farm, caring for animals and much more. If you are looking for a farming game with more depth than current farming apps on social networks, then Family Farm definitely is the game for you."
In Family Farm you'll need to manage your farm workers efficiently by preparing the soil, sowing seeds, harvesting crops, caring for livestock and cooking meals to keep your workers energetic. Then, over time, your hard work will pay off as your family members improve their skills and your crop bears you much profit.
Family Farm is set for a May 2011 release, and with its cute graphics, and the promise of an addictive tycoon style of gameplay, we can't wait to see some more of this title.