In their newest dev diary Codemasters show how they have been attempting to make the most authentic simulator possible, mixing the experiences expected from both simulators and arcade, pleasing both markets, while trying to express the nervousness and twitchy nature of a formula one car that you don't get from watching them on TV.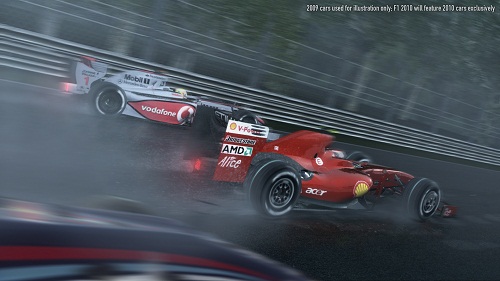 They have tried to make it different from their other games like Dirt and Grid which really allowed you to throw and slide the cars round corners which is true of the types of cars in those games, however F1 cars handle very differently and this is what they are trying to convey by making the handling consistent, as well as demonstrate the effects that aerodynamics cause on the cars.
Making the handling consistent has obviously been a challenge, as well as is allowing you to get the most authentic experience, that is both enjoyable but also challenging, thus letting you feel like you are the actual driver. Formula One 2010 will be released this September 2010, on Xbox 360 and Playstation 3.
To see it for yourself get a sneak peak into the production behind the new F1 2010 game out this September in their second Dev. Diary, find out what they have chosen to highlight as important aspects of the game from this new outing onto the HD consoles, developed by Codemasters' Guildford Studio.