2012 for publisher Excalibur Publishing has already been a busy year, and with such high quality titles like Airport Firefighter Simulator, Construction Simulator, Police Simulator 2, and a strong line up of affordable Extra Play titles they want to keep releasing two to three titles a month, so they've taken a page out of the recent Kickstarter success, and have announced that they will be looking to the simulator fans to get what they want made!
In a recent interview with Gamespot, Excalibur Publishing's managing director; Robert Stallibrass spoke out about their passion for simulators, the industry and how the simulator genre is really taking off in Europe, they had also hinted on a scheme to get the simulators the fans want onto the shop shelves.
The market for simulations is as wide as your imagination. We get people saying, "Have you done Hairdressing Simulator, have you done Ice Cream Van Man Simulator?" Some of these are extreme, but the fans really do want them, we are putting out two, maybe three products a month, but because the quality of simulators are improving, the development time is beginning to take longer, and we're running out of titles.

There's three elements that ensure the quality of the titles. Hard work, luck, and common sense, and we want to add a fourth; community!. Despite what some gamers think, the simulator fanbase is massive, and we want to start bringing them what they want.
Unveiled as the Community Wishlist, it will allow fans to place wishes on simulators that they would like to see made, and others will be able to vote for their favourite suggestions. This looks all well and good, but what if no one wants to see my simulator get made?
Contrary to what you would think Excalibur have expressed that they will not be adding a forum to their website, and instead a simple log in system will allow users to vote, ensuring that spam voting does not occur. If you don't like the idea of someone else's wish, you can simply vote that suggestion down.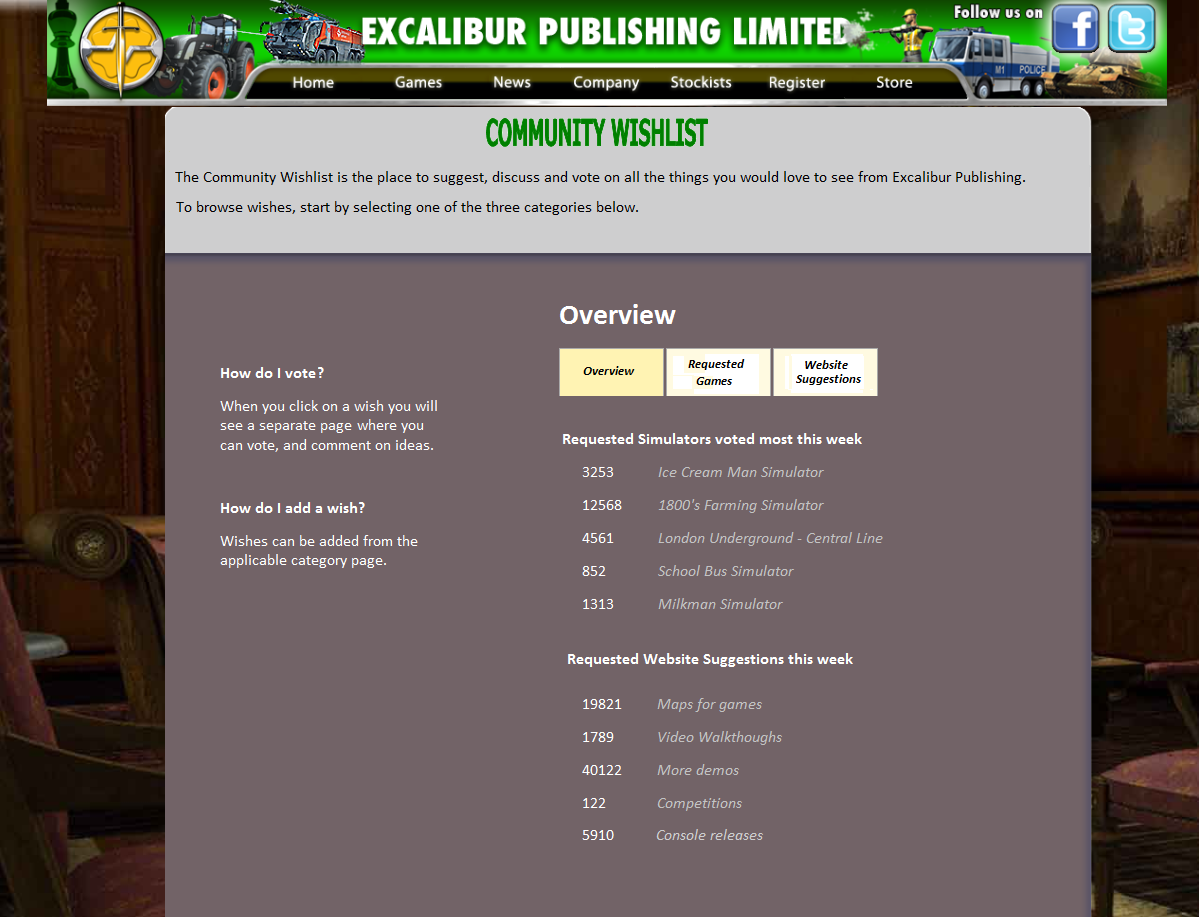 As well as games they are also taking suggestions on improvements for their website, although so far people seem to be more focused on game related content! Excalibur's new community wishlist is a fantastic idea if I ever saw one, and one that will help to bring those true niche ideas to the spotlight, for a generation of simulator fans to enjoy, just like back in the day where you could get practically a Sim anything thanks to Maxis. The wishlist is active now, so if you want to make sure your dream simulator gets made, head over there now!
Unfortunately, as cool as an idea this is, and I would kill for a milkman simulator, I do hope a few people got excited; April Fools
.