Those that read our preview on Epic Mickey would know that all of us at Gamercast are eagerly awaiting it's release. Well those as excited as us can now relax as the release date for Epic Mickey has finally been announced.
"I believe that video games tell stories as deep and as sophisticated as movies, books or any other medium. In Disney Epic Mickey, Mickey Mouse is faced with challenges worthy of a hero, while the players' actions and their decisions throughout the game alter the gameworld," said Warren Spector, general manager and creative director, Disney Interactive Studios' Junction Point in Austin. "We are honored and humbled by the anticipation for Disney Epic Mickey, and we could not be more excited to get the game in people's hands so that they can experience the thrill of becoming a hero and controlling their own destiny."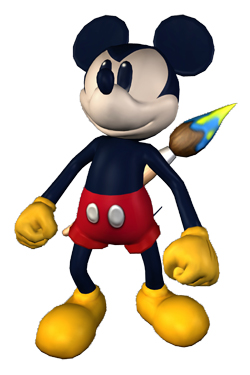 Epic Mickey will be one of the most adventurous titles to hit the Nintendo Wii, allowing the way you play to alter the game, giving consequences for any actions performed in game. Epic Mickey is set to be the most interesting Mickey based game to date (even though Castle of Illusion and World of Illusion were excellent) and uses more Disney knowledge than any other game to date.
It tells the tale of a Cartoon Wasteland where the evil sorcerer Yen Sid sent all his reject creations, Mickey has been pulled into this wasteland and only has a paintbrush to his disposal. Now with the tasks of stopping the Phantom Blot, gaining Oswald's trust and save the wasteland all at the same time, or just manage to escape, it's all up to you.
So keep an eye out for Epic Mickey on 26th November (November 30th in North America) as this exclusive Disney Wii title is one that you don't want to miss. We only hope that the collector's edition is announced to come out in the UK now as well.