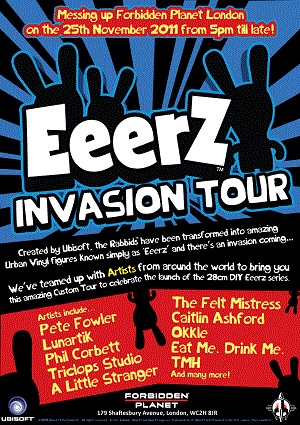 Ubisoft are releasing a series of Vinyl Figures known as 'Eeerz', and they are invading Europe! Teaming up with artists around the world, the European Custom Tour celebrates the launch of the 28cm DIY Eeerz series. Think of them like Dunny's or Qee's, but in Rayman's Raving Rabbid form! To launch the figures, Ubisoft are holding an event at Forbidden Planet in London next week, that is open to the public, and free to attend.
Visit Forbidden Planet in London on November 25th from 5pm until late to see some fantastic custom Eeerz as they make their first stop on the European Tour! You'll be able to see DIY Eeerz that have been transformed into works of art by renowned artists including Pete Fowler, Lunartik, The Felt Mistress, Phil Corbett and more.
You will also be able to customise your own Eeerz in an art workshop by Lunartik, play the newly released Raving Rabbids: Alive and Kicking, and win some cool prizes.
The Eeerz Invasion Tour is open to all ages, and is completely free to attend, so make your way to Forbidden Planet in London on November 25th and get creative!