The sign of a true adventure game is not very hard to spot, in most cases you can be presumptuous and look for a name, like Lucas or Ron Gilbert, however amongst all the Monkey Island's and Grim Fandango's of the world there will always be some a surprises. Edna and Harvey is one of those little surprises, and has all the makings of a great adventure game on a small scale, just like an indie game that just captures your imagination.
Edna and Harvey is a classic adventure game, sticking to the good old verbs of look at, pick up, use and walk to and plays pretty much through a mouse with the usual point and click interface, Edna carries a wealth of an inventory in her pocket-less gown and to keep your attention it does on occasion call for quick thinking actions, and it will most certainly keep your brain twisted around its obscure and bizarre puzzles.
Edna and Harvey tells the story of Edna a disillusioned young woman that finds herself in the small padded room of an insane asylum with very little in the way of memories; she has no idea why she is there or who she is. From the information she is told by Harvey; her small soft toy rabbit, and what she uncovers from overheard conversations she is trapped in the asylum by the evil Dr Marcel who knows something sinister about Edna's father.
Edna best describes herself as a hyper cool inhabitant of earth, and she's pretty much hit the nail on the head, alongside all of the kooky characters, Edna is marvellously written and spoken, if you like your crazy over the top you've got it by the bucket load in Edna who sometimes lets her true crazy out; be it providing voices for inanimate objects or threatening to club someone over the head.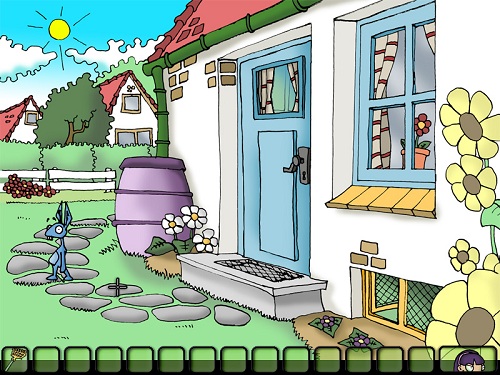 Harvey is just as great; speaking from one part of Edna's conscience he'll handily give solutions along the way, and gives some brilliant commentary to certain situations. However Harvey is most useful for his helpful Tempomorph ability that takes Edna and Harvey back to the past in order to remind Edna of the memories and abilities that she has forgotten, in order to solve puzzles in the present time. Whilst the Tempomorph ability is only used three times in the game, the reliance on the information gained is most important, and a lot of puzzles in the Asylum will rely on Edna's 'powers' of using her toenails to loosen screws or forging signatures through increased repetition.
Edna and Harvey does look a bit dated in the fast paced world of gaming, and it looks more like a Flash throwback from the 90s. This is not without reason, The Whispered World was an idea that designer Marco Hullen had at school when he was a boy, similarly Edna and Harvey was the university project of Daedalic founder Jan Muller-Michaelis also known as Poki.
This is the most important aspect of Edna and Harvey, the game asks you to put less of an emphasis on the graphics, and the very clunky animations, but actually pay attention to the story and its hilarious characters. Similarly the audio is brilliant, but again occasionally has its faults, and cut scenes won't be personalised with sound effects and practically the game is carried simply through its dialogue and music.
The art style is quaint in the best context, and if you come to Edna and Harvey expecting the beautifully drawn spectacle that was The Whispered World you're going to have to wait for Deponia. You may find the animations crude and the art style childish, but soon enough as you continue to play Edna and Harvey it all begins to fit, and you couldn't see Edna in any other way.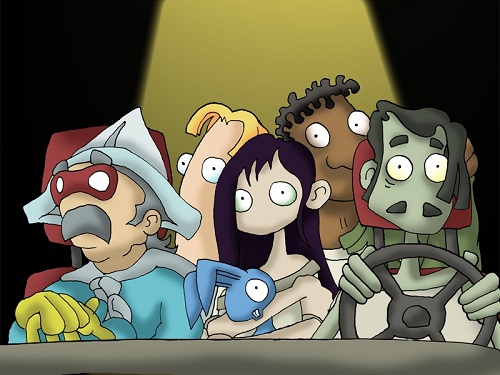 The humour in Edna and Harvey is very unique, and if it's not referencing games in the genre like Monkey Island or Maniac Mansion, then it's breaking the fourth wall by commenting on Harvey's spelling of words in the text, or the game's lack of animations, you'll chuckle on more than a few occasions at the absurdities of the game, just like a great Lucas Arts of the 90s.