Lace Mamba Global have confirmed the contents and release date of the upcoming Collector's Edition of Edna & Harvey: The Breakout which will include the official game soundtrack on a separate music CD, and a A2 artwork poster for the SRP of £19.99, this will be the debut for the critically acclaimed German adventure game in English-speaking territories starting with the UK where it will see release January 21st.
The multiple award-winning Edna & Harvey: The Breakout is one of the most successful adventure games to hit the European market in recent years, and was the debut release of the critically acclaimed German adventure game developer and publisher Daedalic Entertainment; who brought us the charming and haunting classic The Whispered World.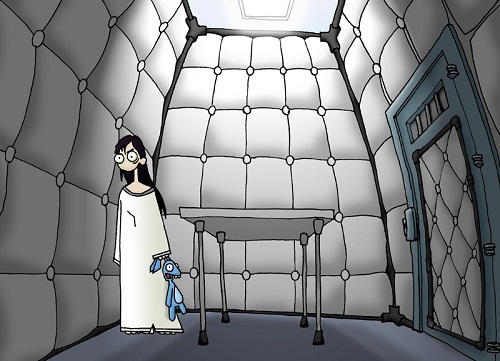 Edna & Harvey began as a student project of one of the founders of Daedalic, and it paid homage to the biggest adventure gaming classics of yesteryear, it also stands as one of the highest rated German adventure games of the last few years. Similar to The Whispered World, Edna & Harvey features unique hand-drawn 2D graphics with crazy characters, and a humorous story with the much loved point and click gameplay.
"We're looking forward to bringing Edna & Harvey to retail stores throughout the UK, Australia, New Zealand, Scandinavia and the Benelux countries. This is the first release of this exciting, classic adventure game to the English speaking audience, and we're confident, Edna & Harvey will make many new friends and bring a great gaming experience to both experienced and new adventure game fans", says Claas Wolter, Head of PR & Marketing at Lace Mamba Global.
For those unaware Edna & Harvey: The Breakout features the rebellious Edna who finds herself locked in a padded cell with her talking stuffed rabbit and absolutely no memories of why she is there. Alongside her fellow insane inmates and her sidekick Harvey you will need to help Edna recover her memories and defeat the evil Dr Marcel; the director of the asylum. With the great characters and charm that The Whispered World exuded we cannot wait to see Edna & Harvey: The Breakout.
Edna & Harvey: The Breakout will be available in all good stores January 2011 and its one game we cannot wait to get our hands on! Here's hoping that with the release of Edna & Harvey to the UK we might see something of the beautiful Deponia soon.