The times are a-changing and even traditional console developers like Natsume are getting on board; at just over 25 years old Natsume have begun fully branching out to mobile devices, the developers tested the water a few years back with Harvest Moon: Frantic Farming, and the likes of Gabrielle's Monster Match however they came to E3 this year with a booth full of iPad games including two new titles in the Gabrielle series.
If you didn't join Gabrielle in Monsterville for Gabrielle's Ghostly Groove on the Nintendo 3DS you may be a little unfamiliar with the series; Gabrielle didn't come to Monsterville originally by choice, after all it's the home of all things that go bump in the night. But she's back and finds herself helping out old friends and defending herself from nasty zombies, cue Gabrielle's Sweet Defense and Gabrielle's Zombie Attack, two very different games, but both set in the Gabrielle universe.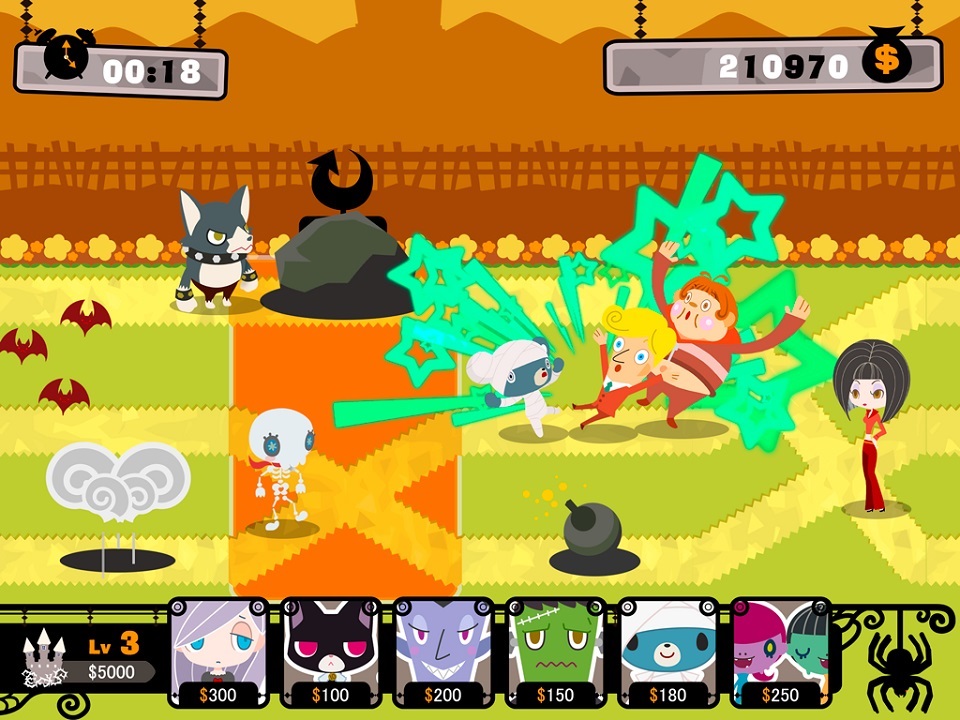 In Gabrielle's Sweet Defense you must defend Grandma Greta's baked goods from being ravaged by unruly humans, this is achieved by sending out the ghastly creatures from Monsterville to give them a good beating, not sure what this game is all about? Perhaps my description was a little confusing, Sweet Defense as you may presume from the title is a standard Tower Defense with a little twist.
You have three different paths that branch off from your bakery base; red, blue and green, each of the monsters you create is assigned a certain colour, and each colour is strong and weak against others. Similarly the human base has three different paths and each human type is assigned a colour. In order to effectively take down each human unit you must make use of the handy path switcher in the middle of the map that allows you to swap the location of the paths and characters on them, allowing you to lead the Japanese business men to the Frankenstein's monster.
As a standard tower defense your units can purchased from the coins that you obtain as time goes on, the units range from vampire counts, mummies, werewolves and Gabrielle herself, its fairly fast-paced, challenging, and pretty darn cute thanks to the game's art style.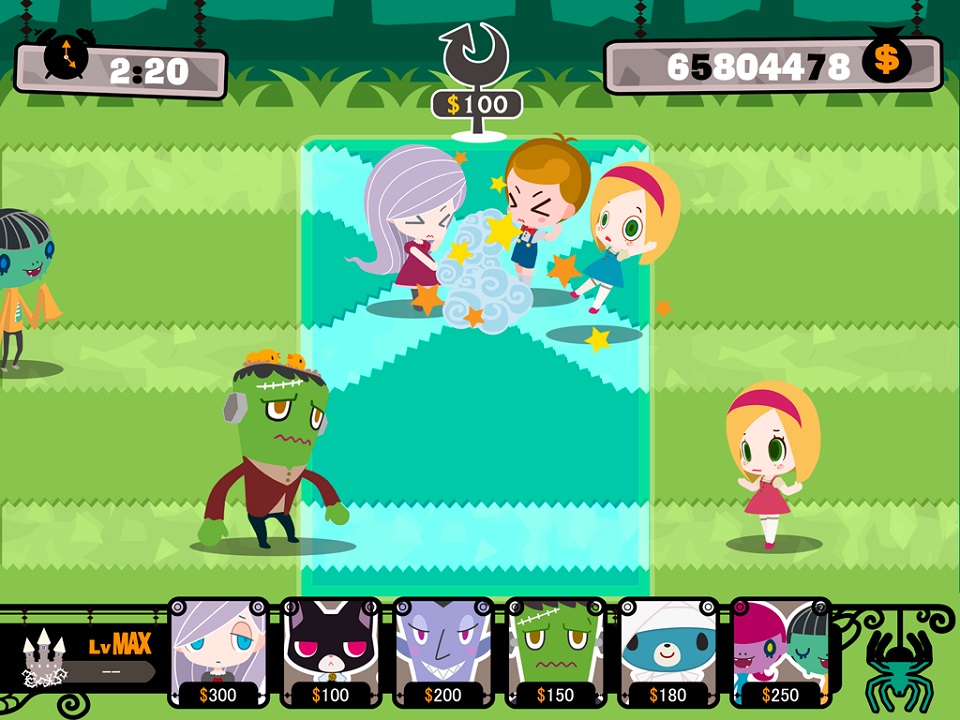 However you won't just be defending baked goods in Gabrielle's universe and the other new game that Natsume had on show was Gabrielle's Zombie Attack, this is a strange one but really addictive! Think Uno but with zombies, intrigued?
In Gabrielle's Zombie Attack you'll find a horde of overzealous zombies trying to make a meal of our innocent heroine, luckily the zombies don't like Mandrake plants, and Gabrielle is armed to the teeth with them. In order to remove the zombies you'll have to throw the Mandrakes at them with either the matching colour or number to zap them away, however with only four mandrakes on screen at a time you won't always have the right colour or number combinations which is where the challenge comes about, either you waste a Mandrake and allow the zombies to advance, or try your luck and change the colour of all your Mandrakes.
Zombie Attack couldn't be any simpler, which is why it works so well, after all, there's not a sane human around that can pass up on a game of Uno, and we're talking Uno with zombies! With countless challenging stages to try and best the encroaching zombies you'll literally keep coming back for more! I did!
Gabrielle is not a household name, but her cutesy horror environment is both quaint for older gamers, and suitably 'goth' for all those Monster High fans, both games are set for a release later this year on iOS, however you can pick up Gabrielle's Ghostly Groove on the Nintendo 3DS and Gabrielle's Monster Match from the Apple App Store.