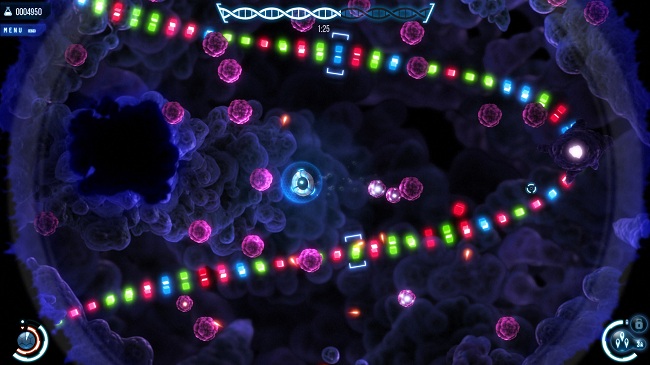 Everyone likes a good twin stick shooter, but not many will have played a twin stick shooter with a Puzz Loop/Zuma style puzzle element within it. I got a little hands on time at E3 with Transcripted, an interesting upcoming puzzle based shooter on Windows.
Transcripted is a new game from Alkemi Games, well I say new, a full blown release on Windows is new, however Transcripted has been around for a while. If you're a fan of Newgrounds or Armor Games you may have given it a play before, however that was the old Transcripted. Now it's a completely overhauled, beautiful version of Transcripted with lovely visuals, great sound and a large array of levels.
Transcripted takes place within the microcosm; a new disease has appeared unlike any other and its infecting humans and spreading at an alarming rate. Well it's your job while controlling the Nano Probe to do your best to save the day and combat the disease. It's ok though as you won't be in a bog-standard Nano Probe throughout the game, Transcripted now features a skill tree that allows you to upgrade the ship's equipment, health, shields and of course the most important thing; the weapons.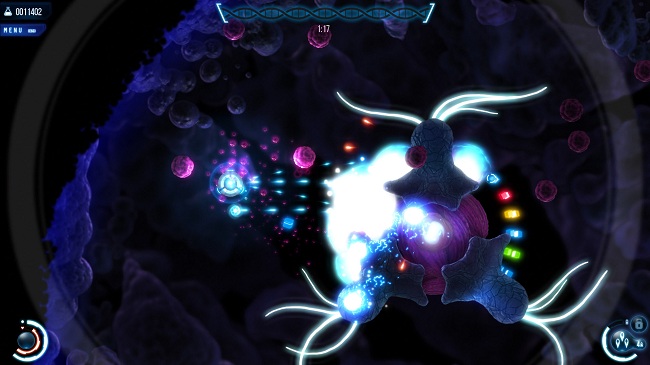 Visually Transcripted has come a very long way since its original release from a pretty good looking flash game to an even nicer looking final game, while still keeping the same game and same visual style. Yet now you can enjoy the brilliant parallax style backgrounds; giving a great illusion of depth, while also being fully animated in some levels there are also noticeable differences on the ship and enemies throughout the game as well as the overall user interface.
Also one of their greatest implementations is that if you want to play Transcripted as a shooter, or as a puzzle game then you can tweak the difficulty levels to suit your play style as Alkemi have added independent difficulty settings for the shooter and puzzle elements of the game. So if you're more of a Zuma player or want a really hard challenge you can change it to suit your needs.
The levels themselves offer a lot of challenge; it's not just a simple shoot, kill, pickup block and shoot to area. The block loops will be at set locations within each level and may need you to travel to the correct spot. However while carrying a block that an enemy dropped you move at a slower rate, making you more susceptible to attack. This adds a great level of challenge, as otherwise it would just be quick and easy to play through the game.
Not all level layouts are the same with strings of blocks along the top and bottom of the screen, we of course didn't get to see every level within the game but we did see a boss level which kept the same puzzle element but totally changed it round. Each level we played and saw was very different from the last so Alkemi have managed to keep it fresh while creating a substantial amount to keep you busy.
Transcripted is set for release on Windows and Macintosh in late July and if you enjoyed their original release you should definitely look forward to their upcoming release. No price points or distributors have been announced yet but we look forward to finding out more soon.