Rayman returns to the origins of his former self in a light, 4 player co-operative platformer that was possibly, hands down, one of the most fun games on show at E3. Bringing with it all the awe-inspiring magic that LittleBigPlanet instilled; from that first time you looked at your cute little character; full of happiness, to the rewarding slap to your partner as they get a little too close to that ledge. Rayman is most definitely back!
Michel Ancel; the creator of Rayman, returns at the helm of the rebirth of Rayman, to bring back the legend, and it looks as though they've hit a gold-mine. The new comic-style has been crafted onto both the character and art design and you can't help but smile as you watch the game be played. Each set piece of an environment looks lovingly hand drawn and its vivid colours and highlights mark it as a true testament to the beautiful nature of European game-design.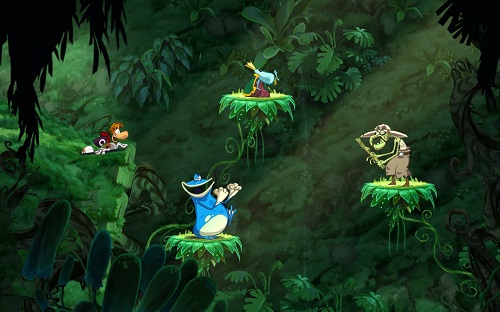 Now, of course not everyone can be Rayman, after all there is only 1. So in a four player game, players will have to fight it out for who gets to play as the lead actor in this game, however you've also got his blimp-like amphibian friend Globox; whose always got a smile on his face. Unfortunately with few iconic characters in the Rayman universe players three and four can play as two Teensies; the ancient race of wise creatures that inhabit the Glade of Dreams.
The game is set once more in the Glade of Dreams, where the nightmares of the Bubble Dreamer are beginning to distort the world; turning all of the good Electoons into Darktoons. It's up to Rayman and his band of friends to set their world right in the origin story of how Rayman and Globox became the heroes of the Glade.
Thankfully Rayman Origins stays true to the series that has been loved by gamers and children for generations, so don't expect to see a Rabbid anywhere in sight. This is instead a nostalgic trip to a carefree time in our lives, so prepare to get on that little mosquito and fly off into the imaginative and crazy world of that unique limb-less character.
The co-operative side of the game is focused on teamwork, players will need to form a stacking pyramid to grab those collectables just out of reach, and if a player dies they will turn into a balloon-like state, requiring a slap from another player to bring them back to their corporeal form. However there is also a very mild competitive characteristic to Rayman Origins as each player strives to collect more items than the other, which is effectively achieved with a photo finish at the end of each level.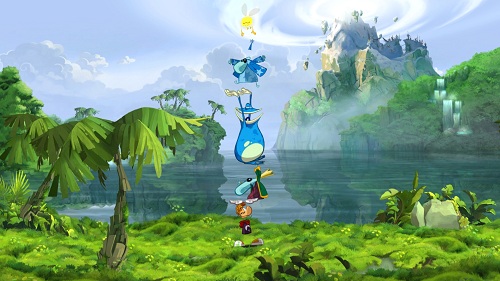 Our E3 demo comes with a simple task; chase the chest. We got a taste of a couple of the new environments including the desert, the jungle and a small portion underwater. The slight adjustments that you must make in traversing each environment is spectacular, and not since the introduction of the Grappling Hook to the world of LBP, have I felt such fluid and agile motion in a game.
Rayman Origins is a classical platformer, now this doesn't mean its a kid's game by any means so don't dismiss right away. Rayman is a difficult game, with speckles of precision jumping and an extremely fast pace, only the most seasoned of gamers will truly succeed over its expansive 60 levels set over 12 different environments.
From what we could see there was nothing wrong with Rayman Origins; the pace is fast, and the gameplay is smooth and flowing like every side-scrolling platformer should be. With a neat competitive streak, and compelling co-operative play both locally and online, Rayman Origins battles LittleBigPlanet for the cutest and most effective game to have a sit down with your friends and platform the night away.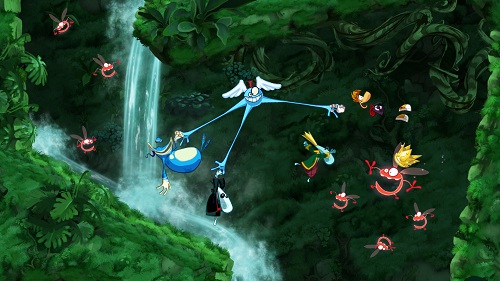 Rayman Origins finally returns Rayman back to the good old days of side scrollers, scheduled for a release Q4 of 2011 it will be seeing multi-format release on Xbox 360, Playstation 3, Nintendo Wii, 3DS and Vita.

Watch the fantastic E3 trailer, and enjoy!

" frameborder="0" allowfullscreen>