Gamercast love Microsoft, we can't help it, it's in our blood, we don't hate other companies, but Microsoft is one that shines quality to us, so we embraced the arrival of Kinect, and love it sitting next to our TV.
The only problem with Kinect is that its love lulls with the times, much like a well-used Nintendo Wii, and it's new games that the peripheral yearns for, well you're in luck, because get ready for the cutest, most innocent game that you must own for Kinect, and we aren't talking about a digital pet!
I'm going to say one word that lets you know you need to have this game, and that's DoubleFine, or I could give a name; Tim Schafer, now unfortunately I'm going to drop the deal breaker in; Sesame Street.
Now I've turned a lot of you away already, but please stick around, and find out why Sesame Street's Once Upon a Monster is THE Kinect game that you have to purchase for Christmas 2011.
Sesame Street has always been about teaching children, whilst Once Upon a Monster will not be schooling you about the alphabet or your numbers, instead it stands as emotional education, each monster throughout the tale will teach young players real human themes, such as shyness, friendship, bravery, sensitivity and empathy.
The game is encouraged to be played co-operatively with parents and children rather than act as an electronic babysitter, in order to assist this; the second player is able to drop in and out with the wave of their hand. Because it is only being released with Kinect-support, there are no controllers, no complex button combinations, and just simple, active, child-like fun.
Elmo and Cookie Monster are the two playable characters in the game, and feature alongside a host of your favourite Sesame Street characters, including Oscar the Grouch, and Grover. In the levels, Elmo and Cookie Monster address the player in the same way that you would expect of the television show, except this time their dialogue is mostly penned by Tim Schafer, so expect some innocently witty lines.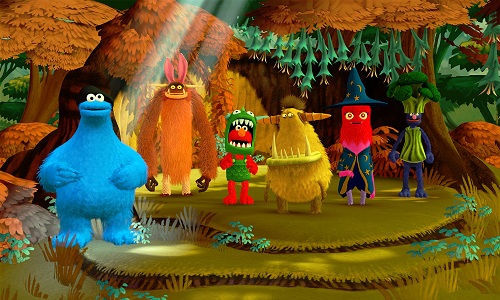 Levels are played out like pages of a book that make up chapters, we got to play through three pages, all were very different from each other, and used Kinect in very simple ways, that made them both casual and child friendly, best of all, each level doesn't last much longer than 10 minutes, so it's perfect for pick-up and play use.
The first page was very simple Kinect mechanics and involved both players touching firebugs with their hands to shoo them towards a large tree, using simply hand gestures and the cupping of your hands for the larger bugs, the page was simple, direct and engaging.
The second page was a lot like musical statues and involved Elmo and Cookie Monster copying the actions of Grrhoof the monster that included jumping around, waving your arms and stomping around like a monster, the sensor detection did not work very well with this game, and occasionally your character would not know what actions you were performing, however, still with Once Upon a Monster still in development, the true test, with most Kinect titles will be had in your own living room.
The third page that we played was an attempt to befriend the small dog-like Puffalopes to the monstrous Grrhoof with very simple gameplay that involved throwing a biscuit to lure the little guys out, and rub them until they trust you; this was repeated on 4 or 5 Puffalopes before the page ended.
Each page was simple to understand, easy to play out and immense fun to carry-out, the muppets and monsters are beautifully modelled, and the look and feel of the game is innocently fascinating, Once Upon a Monster appears to be a true gem of a children's title that captures the imaginative spirit of DoubleFine, and the heartfelt morals of Sesame Street.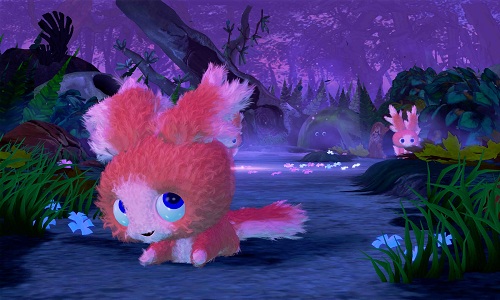 Once Upon a Monster is a little different from Psychonauts, or Brutal Legend which you may more commonly know Double Fine Productions for, the game is intended to help foster emotional development in children, and promote Healthy Habits for Life, which the story and Kinect controller will provide.
Yes, this is practically casual gaming, no it is not Psychonauts 2, but it is good to leave your shell and look to the games you would not usually play, because there's a wealth of charm and fun to be had in Once Upon a Monster. None of the writers at Gamercast are parents, but we know how to have fun, so we won't be hesitating to play Once Upon a Monster once more.
So throw your pretences out the window, forget the Modern Warfare's, and the Final Fantasy's of the world, relax, let your hair down, and experience what it's like to be care-free again, and get Once Upon a Monster when it is released Q4 2011.