Whilst at E3 we got a sneaky peek at Daedalic Entertainment's newest game; Deponia. So expect full of hand-drawn backgrounds, charming characters, beautiful character design and some fantastic idle animations, not to mention a rabid toothbrush!
Rufus is a true believer that the grass is always greener on the other side, and as one of the lowest social classes in the world of Deponia, he's a bit of a dreamer that always has a scheme to 'get to the top'. At the beginning of our presentation Rufus is packing his bags for his latest plan; to harpoon himself to the Monorail that encircles the higher sectors. However in true fashion his plan falls awry, and instead of harpooning himself to the monorail, he brings a woman down to him.
The woman is the 'angel' Goal, as a higher class citizen, Rufus sees Goal as his ticket out his trashy wasteland, his plan evolves as he finds out that the attractive Goal is married to Cletus; who's a bit of a dead-ringer for Rufus. As you can imagine, he hatches a prince and pauper strategy, which for Rufus' luck goes nowhere for his attraction to Goal. At it's heart Deponia is a comedic, and unusual love story.
As you would imagine, from the developers that created Edna and Harvey, and The Whispered World, Deponia is a strong, traditional, point and click adventure, and features a radial menu much like Curse of Monkey Island for interactions, you're standard combination puzzles are dominant with other such puzzles including jigsaws, button-pushing and mechanical puzzles, however most adventure game fans will be more thirsty for the quirky and charming story that Deponia promises.
Unfortunately those of you that enjoy an intuitive adventure game will be sad to hear that Deponia looks just as obscure with the puzzle and combinations as The Whispered World was, we watched as Rufus attempted to trap a live toothbrush with a mousetrap and a old wasabi pea, not before dipping a sock in a strange concoction of items to ensure that he had two matching socks.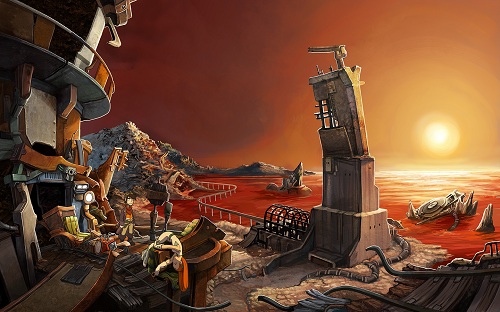 What we saw of the game was very early stages, and whilst there are still animations and dialogue missing, the beautifully hand-drawn environments, humour, innocence and steampunk vibe are spectacularly clear, and if the story delivers, Daedalic have another winner on their hands.
 
Deponia is looking jaw-dropping-ly beautiful, and will hopefully be coming to PC gamers Q1 2012; we don't want to rush Daedalic Entertainment, they can take as long as they want, we just want another beautifully tragic and engaging adventure game, just as they delivered with The Whispered World.