E3 is here, and in a few hours the beginnings of the pre-E3 conferences will begin with Microsoft's conference this morning at 9am; (17:00 GMT). Shortly followed by EA, Ubisoft, and Sony that will keep many entertained before E3 begins tomorrow June 7th at 12pm. Before the doors open, Nintendo will be holding a big pre-show event at 9am (again 17:00 GMT) on the 7th June.
We are lucky enough to attend most of these conferences, but don't feel left out, you can join in too with the live streams that each conference will have;
Microsoft's Live feed is available on the Xbox website

EA's Live feed is available on the EA Website

Ubisoft's Live feed is available on their Youtube Channel or via Uplay

Sony's Live feed is available through the PlayStation blog and within PlayStation Home

Nintendo's Live feed is available on the Nintendo website.
Where ever you may be in the world you'll want to listen in live to the conferences, so here's a handy timetable to work out when the conferences will be streamed on their respective sites.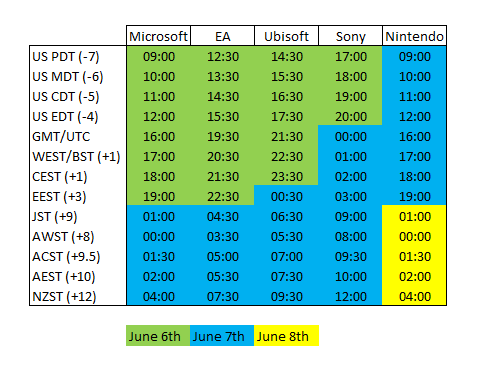 We hope that this year's E3 will be spectacular, only because we are in attendance, will anyone have any surprises up their sleeves? We hope so.
Expect to see coverage on the latest games, and our opinions on them, and keep up to date with us on our E3 podcasts that we will be releasing daily. To filter the website for just E3 news, select the category to the right.