The BBC has announced the date for the newest, and final episode of Doctor Who: The Adventure Games as Christmas Day, of all days!
As a treat to all families that have been enjoying the adventure games, the BBC have decided to release the last episode immediately to follow the BBC One and BBC HD broadcast of the annual Christmas Special, and the fourth episode will be available on the Doctor Who website.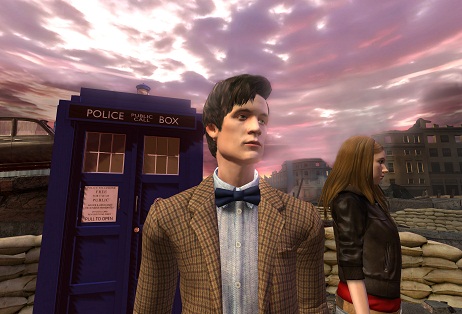 Entitled Shadows of the Vashta Nerada, the episode contains the brilliantly scary 'shadow' monsters that appeared in the episodes Silence in the Library and Forest of the Dead back when the Doctor was played by David Tennant. Shadows of the Vashta Nerada sees the return of Matt Smith and Karen Gillian as the Doctor and Amy, and they face their biggest digital adventure yet.
Kicking off after the cliff-hanger of TARDIS, the Doctor and Amy materialise just south of London in an aquatic sea-bed colony called Poseidon, featuring a plot that surrounds a real-world conspiracy and of course it takes place at Christmas time.
"We've gone all-out for the season finale," says Steven Moffat, executive producer Doctor Who. "Shadows of the Vashta Nerada takes place entirely underwater — something which would be impossible for the TV series, as water is so expensive. It's thrilling, terrifying, educational and fun. Just steer clear of those shadows..."
Shadows of the Vashta Nerada will be available simultaneously on PC and Mac from the Doctor Who website on Christmas Day for free for UK households. Users outside the UK will be able to purchase and download it on the same date — with details on the Doctor Who website. But don't think this is the last you will be seeing of Doctor Who: The Adventure Games, because the series is set to return in 2011!