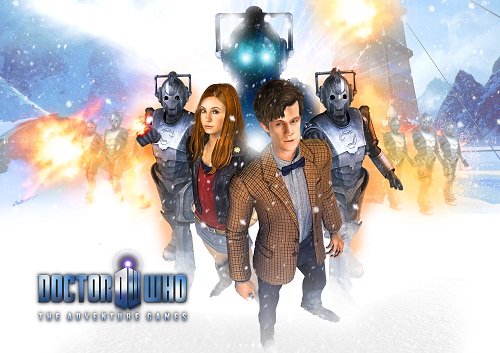 Episode two of Doctor Who: The Adventure Games has been unveiled today by the BBC, titled 'Blood of the Cybermen', and is set at an abandoned Arctic research centre and will be seeing the return of the classic enemies the Cybermen, as the episode makes its way to our computer screens very shortly.
"Blood of the Cybermen is classic 'Who. It's an epic story, and one we could only tell in a computer game. We've ambitious sets, a thrill-a-minute narrative, and we re-introduce a Doctor Who adversary not seen since the Tom Baker era." Phil Ford
Executively produced by Steven Moffat and staring Matt Smith and Karen Gillan, 'Blood of the Cybermen' has been written by Phil Ford and is developed by BBC Wales and Sumo Digital; the series is set to complement the TV series, giving players the opportunity to be the Doctor for the second time in over 40 years. It was recently confirmed that the first episode 'City of the Daleks' received over 525,000 downloads in the first 12 days, and we really enjoyed the first episode, and can't wait to give the next episode a go.
Doctor Who: The Adventure Games: Blood of the Cybermen will be available to download for free for Windows from the BBC website as of Saturday 26th June immediately after the series finale on BBC1, with a Mac version following shortly afterwards, we've also been promised that information in regards to international availability will be announced soon.