Set at an arctic research post, Blood of the Cybermen is centred around a mining team; GSO that while boring into the ice find something unexpected that had been buried in the ice for 10,000 years, as you may have guessed from the title, it was Cybermen technology, and shortly after the discovery Cybermen are running amuck enslaving the researchers to spread the Cyberman army.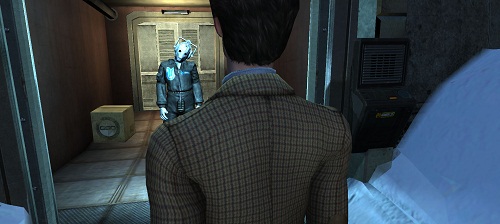 Running away from Cybermen is a pre-requisite of the episode, as well as the introduction to the Cybermats - practically a Cyberman face hugger, however these are dispatched of far too quickly, and the episode in turn feels a little rushed. There is more of an emphasis on aiding the unfortunate researcher Chisholm across ice cliffs, and fixing radios to stop the Cybermen threat from spreading.
So expect loads of Amy Pond action, as Blood of the Cybermen sees the feisty companion as less of a damsel-in-distress as she helps the Doctor along every step of the way; and in heels too!
Blood of the Cybermen contains slightly more complex and trickier puzzles than those encountered in the first episode, which may prove slightly difficult for younger children, but were particularly satisfying as a fan of adventure games. It was also good to see more factual points laden throughout the game; some of which that are actually extremely interesting.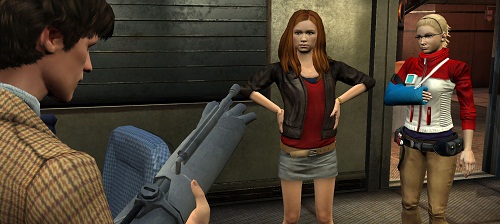 Even though the television series is over for now, fans can get their fix of the doctor from the two remaining episodes of the adventure series, it's just a shame that the doctor's exploits from the games were not mentioned as much as we had hoped they would be in the television series.
However as expected Blood of the Cybermen was a respectable addition to the Doctor Who universe, and although the episode has a few issues, the story is up to scratch with the television series, and provides just as many thrills and laughs as viewers look forward to in Doctor Who.

With only two more episodes to go it will be interesting to see what enemies we will be pitted against when the Doctor returns (presumably) next month in episode 3, so keep your eyes peeled when the next episode's title is announced, for now you can download Blood of the Cybermen off of the BBC's website for free, with a Mac version following shortly, fingers crossed that we will hear an announcement regarding details on availability outside the UK soon!