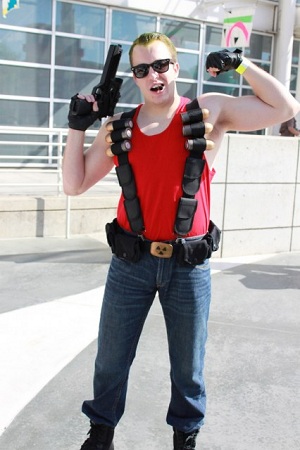 Talk about short notice! All you Duke Nukem fans will be pleased to know that the Duke himself is going to be appearing at GAME on Oxford Street ahead of the anticipated launch of Duke Nukem Forever next month on 10th June 2011.
This is the first time that the lookalike has appeared in public (he is not the guy photographed!), so here's hoping he's the real deal as he appears in the store between 3.00pm and 5.45pm on the 11th May. The Duke will be giving away free t-shirts, magazines and badges as well as doing a public signing and posing for photos in their flagship store.
This is alongside the announcement that GAME have secured the only UK exclusive DLC for the launch of Duke Nukem Forever; 'Duke's Big Package!' which is free to customers that pre-order the GAME on Xbox 360, PS3 or PC, the pack includes; Ego Boost which extends Duke's ego health bar, six in-game t-shirts and Big Heads, boy we haven't seen big heads in a game for years!
If you can make it to the event at the Oxford Street GAME on the 11th May between 3.00pm and 5.45pm, don't forget that Duke Nukem Forever's creator Randy Pitchford will be giving a developer Q&A at BAFTA tomorrow on the 11th May at 20.30.
We're totally bummed out that we will not be able to meet the Duke, a photo would have been fantastic, so if you love your total cheese head down to Oxford Street tomorrow for a fantastic opportunity, and a free t-shirt!