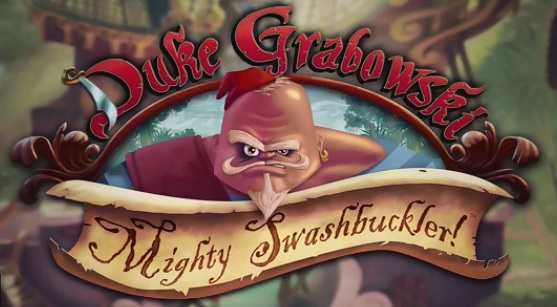 Kickstarter is truly the home of everything that is good in gaming, not only can you find games that are really trying to spice up the world like Ironcast, you can rely on it to find the sort of games you just love to play.
This is absolute fact when it comes to the point and click adventure subgenre that many gamers know and love! Especially when great minds from the glorious golden era of point and click games are turning to Kickstarter, just like with Duke Grabowski, Mighty Swashbuckler! That comes from Bill Tiller of Curse of Monkey Island and A Vampyre Story fame, and Gene Mocsy the author of 1954: Alcatraz.
I know what you're thinking, Monkey Island rip-off right? Well what started off as an homage to Monkey Island spiralled into a whole different animal, Duke is not the best pirate going, but Duke Grabowski hopes to spin the pirate based point and click with a slightly... different protagonist.
As mighty pirate Guybrush Threepwood, it was always your aim to rise up as the underdog loser with a penchant for solving puzzles, well Duke Grabowski is a hulking brute who solves his problems with his fists, which hopes to make for an interesting adventure! Especially when you find out that his adventure evolves around seducing three tempestuous women, or his crew just won't accept him as their leader, and leading with his fists won't get him very far in that respect.
Whilst coming to Mac, Windows PC and Linux, Duke Grabowski, Mighty Swashbuckler! will also be coming to the OUYA by participating in the #FreeTheGames Fund that matches every dollar donated by Kickstarter backers by OUYA, so the game will be a timed exclusive release on the console.
They're asking for $40,000 and are already halfway there, and with as little as $5 securing you an OUYA-only copy of the game, and $15 giving you a DRM-free PC, Mac or Linux code, you can't go wrong. However if you're feeling particularly extravagant, you could back them with $10,000 and Bill Tiller will fly to your house and paint a mural on your wall! Anyone got a spare 10k lying around??? Go on! Give it a pledge.
Duke Grabowski, Mighty Swashbuckler! is hoping to come to Windows PC, Mac, Linux and OUYA around October 2015.