The Doctor and newly appointed companion; Amy will be making the journey from your television screen to your home computers this summer as the BBC announces Doctor Who: The Adventure Games; four interactive episodes that will be made available for free through the BBC's website.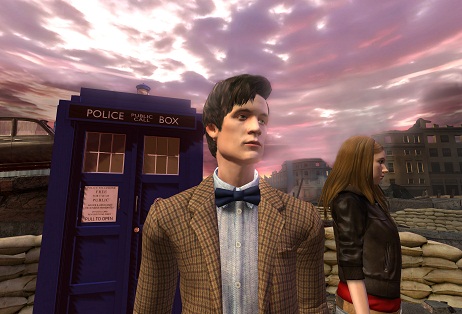 The games are being overseen by the producers of Doctor Who and adventure gaming legend Charles Cecil, and are being developed by Sumo Digital, alongside actual stories and scripts from the writers of the TV series. Doctor Who: The Adventure Games will offer fans a unique opportunity to enter the Doctor's world, and face the challenges that he does in every episode. Matt Smith and Karen Gillan have been digitally recreated in game and have provided full voice overs, Murray Gold the composer for the TV Series has also provided his music for the games, and they will also feature additional cast that will portray original characters as well as classic enemies.
"There aren't 13 episodes of Doctor Who this year," adds Piers Wenger, Head of Drama, BBC Wales and Executive Producer, Doctor Who. "There are 17 - four of which are interactive. Everything you see and experience within the game is part of the Doctor Who universe: we'll be taking you to places you've only ever dreamed about seeing - including locations impossible to create on television."
The BBC hope that it will encourage families to gather around their PC in the same way they do at the television, driving computer literacy and establishing new standards in interactive drama.
The exact titles of the four episodes are being kept a secret for the time being, but promise to take players on a journey throughout time and space, including one location that has never been seen on Doctor Who before, as well as encountering new and original monsters. This is great news for fans of Doctor Who and adventure games alike, by blending the great stories of The Doctor with first class interactive mechanics; this will definitely be a title that our television licenses are worth paying for! The first episode of Doctor Who: The Adventure Games will be available to download for both PC and Mac from the BBC in June 2010.