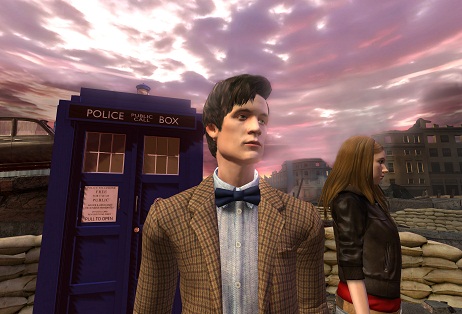 After over 1.6 million downloads of the first three episodes, Doctor Who: The Adventure Games has captivated families across the country, and with the final episode in the first series to be released later this year, fans will be pleased to know that the BBC have confirmed that The Adventure Games will return in 2011.
Series two is promised to be bigger, better and more spectacular thanks to its re-commission, the BBC feel that they have set new standard in audience participation, and hope that they have helped to push the concept of families actively playing together. Matt Smith and Karen Gillan will be reprising their virtual roles, and will also be joined by additional member of the Doctor Who cast to further form part of the canon of Matt Smith's Doctor, as well as form an integral part of the Eleventh Doctor's second series.
"The audience reaction to the first series has been incredible," adds Anwen Aspden, executive producer, BBC Wales Interactive. "But we want to outdo the first series in every way. We want to take players on journeys which will bring the show to life like never before, and once again offer outstanding interactive drama to fans of all ages."
Episode four of series one will be available for download later this year, with more information of the second series of Doctor Who: The Adventure Games to be revealed soon.