The third episode of Doctor Who: The Adventure Games has been unveiled as TARDIS, and will allow fans the opportunity to fly the TARDIS for the first time, bringing the Doctor's time machine to life, like never before.
"TARDIS is a brilliant, brilliant adventure" says Steven Moffat. "It's funny, touching, terrifying, amazing - everything a Doctor Who episode should be. Since 1963, kids have wondered what it would be like to control the TARDIS. Now we're handing complete control of the most powerful ship in all of space and time to a generation of children. Everybody duck!"
Players will be able to find out exactly where those steps within the TARDIS lead, as you are finally given the chance to wander around, as well as to see the the Doctor's drawing room featuring treasures and artifacts from his many adventures, and a location specially created for the game that will form a part of the Doctor Who canon.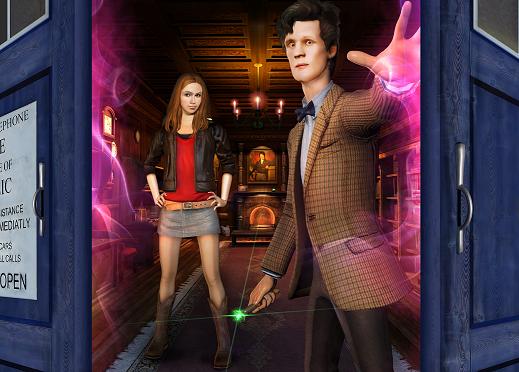 With the TARDIS stuck in a riptide, and the Doctor sucked into space, Amy Pond must explore the secrets of the time machine in order to restore normality to it, whilst uncovering the secrets of the TARDIS and unveiling two brand new monsters
James Moran's script will take players on a frantic, funny and surprising adventure that could only feature in a Doctor Who story. The first two episode of Doctor Who: The Adventure Games have been downloaded over 1.3 million times in the UK, and with the chance to pilot the world's most famous police box fans of the series should draw like moths to the flame for this episode.
Episode 3: TARDIS will be available simultaneously on PC and Mac from the Doctor Who website for free to UK households. Fans outside of the UK will be happy to hear that they can now purchase and download the episode on the same date, details will follow on their website.