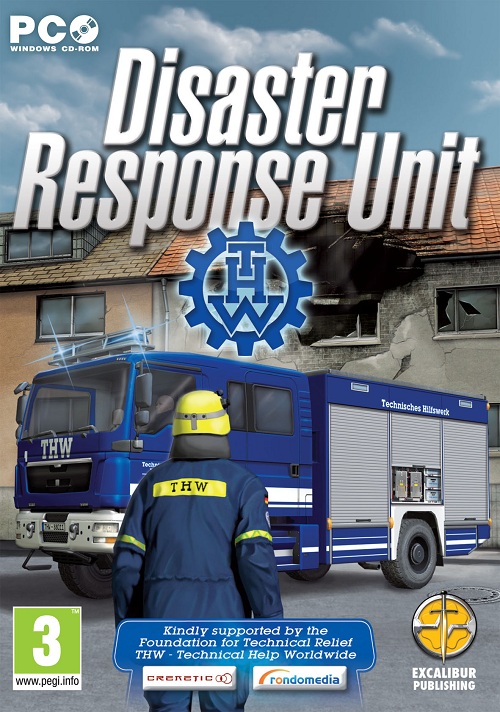 Disaster Response Unit or Federal Agency for Technical Relief (THW Simulator) is a new simulator from Excalibur Publishing that takes players to the exciting world of disaster relief, and to be fair it is pretty exciting, you just have to get used to the health and safety regulations of the world we live in, and no, we kid you not!
In case, like us you were unaware of exactly who THW are, then you may be very interested after finding out. Back in 1950 the German government created the Bundesanstalt Technisches Hilfswerk; a civil protection agency made almost entirely of volunteers. The group handle the prevention, protection and clean-up for major and minor disasters in the country, if you're checking out the simulator then no doubt you will be pleased to know that there is a short history section in the game on the group.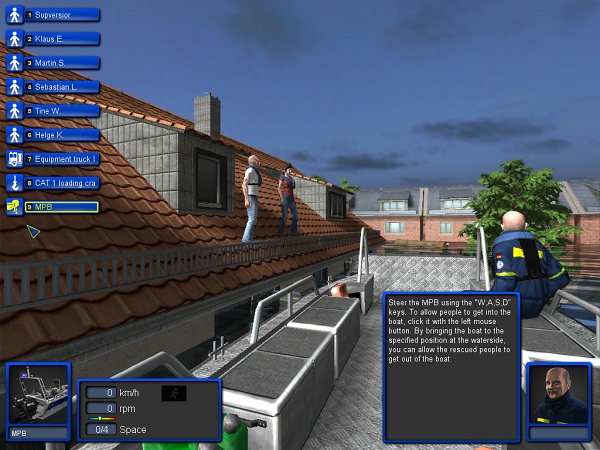 However as exciting as the team sound, there is one very important fact that you'll need to take into consideration before playing the game. Now Disaster Response Unit is a true simulator, and everyone knows that these days the world is run on rules and regulations and health and safety; so when you sit down to help solve a few disasters and prevent some nasty accidents, unfortunately regulation and abiding by the rules must be at the forefront of your mind.
In the real world no one is really a maverick, that's just what the movies want you to think, so before any response can take place, at the start of every mission an inspection officer must take in the scene, and figure out the best possible solution to a problem. After everything is figured out there is the task of parking up all of the necessary vehicles in the vicinity of the incident, once that has been taken care of you must kit up every crew member with safety gear relevant to the task about to take place, then to ensure the safety of the public the area you are working in must be cordoned off with cones and or road blocks, all set? Then we can begin saving lives!
With all the rules and regulations, the most important vehicle at your disposal does not save lives, but gets your crew well prepared for the task at hand, behold the Equipment Truck; complete with all forms of safety gear, road blocks, chainsaws and tarpaulin, if your disaster can be prevented by something that doesn't require lifting with a crane you'll find it in here, it's just a shame that you never use the ladder on top!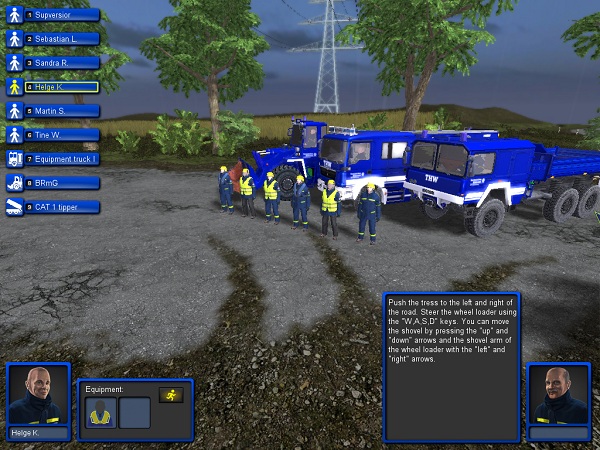 Second to your ET is your tools of the trade, with your trusty CAT crane you'll be hauling around wooden platforms, and bridge segments around, however you'll get the most use out of the time honoured wheel loader thanks to the shovel and fork attachments, unfortunately this makes it all the more disappointing that it is the most infuriating vehicle in the game due to its 'unique' handling as a two part vehicle.
If the Wheel Loader gets you down, there's nothing to worry about, because you can get used to its handling in the special Training Site that allows you to get to grips with all of the vehicles in the game in-between missions. Because unlike most simulators you've no second chances as a disaster response unit, and there's no reset button in this simulator.
Across the 11 missions of the game you'll find yourself cleaning up after disasters by clearing trees and rubble off roads, setting up supports for buildings and building makeshift bridges, you'll come to the rescue of the stranded public in flooded waters, or prevent and protect against disasters by setting up sandbags and walls. All in a days work for a Disaster Response Unit, just be prepared as a lot of the missions are logged up with preparation over action.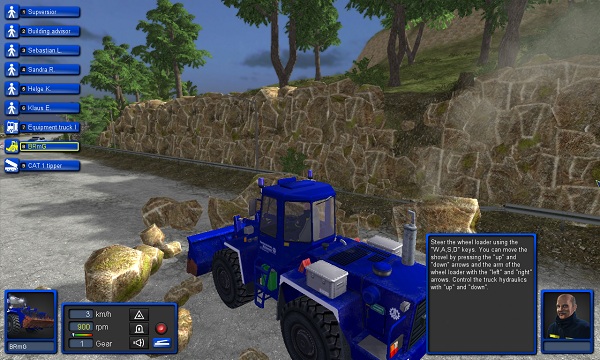 At times with the overuse of the wheel loader it does feel as though you are simply playing Digger Simulator 2.0, however making up a bridge of pontoons across a river, and zipping around a flooded town in a rescue boat are some of the true highpoints of the game, and as much as the rules and regulations 'bring the game down', there's always something satisfying in a simulator getting a certain aspect spot on.
Wheel Loader aside, the game actually looks really nice, and if anything the real anti-climax of the game is had in your beautifully personal response crew; after suiting them up in the appropriate garb, the only real use they have is to cordon off roads, and if you ever get them anywhere near a vehicle, new crew members spawn, that truly disenchants the feeling of accomplishment that you want to feel working as a team on the 'edge'.
Disaster Response Unit Simulator is a pretty unique game, but unfortunately like most construction based simulators everything comes down to the trusty wheel loader, and with only one mission using the rescue boat you come out feeling as though you're lacking somewhat, after all there's no real danger in this simulator.

Disaster Response Unit Simulator is available now in all good stores and online retailers for the SRP of £24.99.