Eidos Montreal has announced details concerning the highly anticipated pre-order packs for Deus Ex: Human Revolution. For those that pre-order the greatly awaited sequel to the classic Deus Ex, you have the choice of pre-ordering the standard edition and receiving the Explosive Mission pack, or you can pre-order the limited Augmented Edition.
The Explosive Mission pack will feature a new mission for the game which features a special cameo appearance from one of the original Deus Ex characters, as well as an Automatic unlocking device, M-28 Utility Remote-Detonated Explosive Device (UR-DED) and the Linebacker G-87 multiple shot grenade launcher. The Explosive Mission Pack will be simply a pre-order bonus, and therefore you will not be required to spend any more money from buying a standard copy of the game.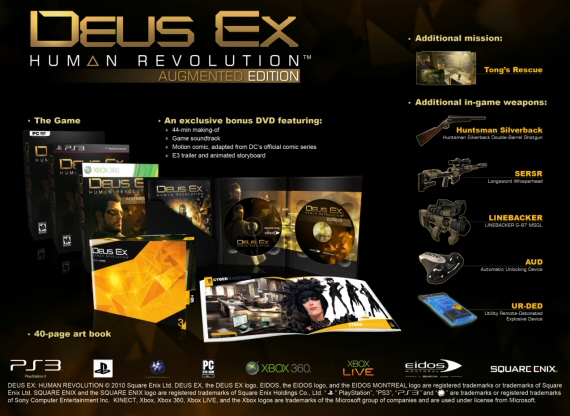 However the more limited Augmented Edition will feature the Explosive Missions Pack and everything that it contains, as well as 10,000 extra credits, -so you won't need to hack them from the ATM's- a Huntsman Silverback Double-Barrel Shotgun, and the SERSR Longsword Whisperhead silenced sniper rifle as in-game items. Aside from these you will also get an exclusive bonus DVD featuring a making of special, the soundtrack, and more, plus it will also come complete with a 40-page art book.
Deus Ex: Human Revolution is possibly one of our most anticipated games for 2011, and we can't wait to see if it stands against its monstrous predecessor! Rather than a Denton, Human Revolution follows Adam Jensen, a cybernetically augmented man that finds himself in the middle of a global conspiracy. As you would expect, Eidos Montreal are ensuring that players will have the chance to tackle the game in multiple, vastly different ways.
Deus Ex: Human Revolution looks absolutely fantastic and is available for pre-order now from all good retailers, and we will wait in anticipation for its release early Spring 2011.