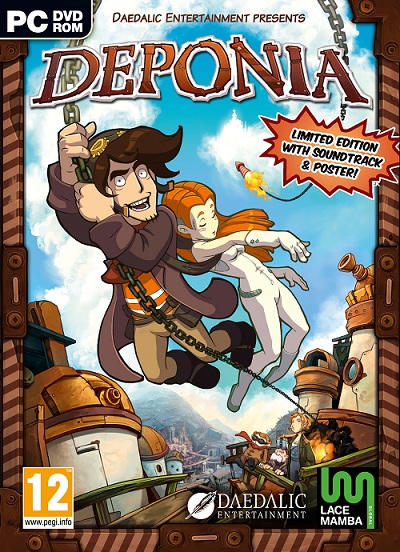 After Daedalic's smash fantasy point and click The Whispered World the German developers have a lot to live up to with their latest title, whilst Sadwick's tale of redemption was one met with mixed opinion, invested time introduced players to an emotionally attaching and beautiful story. But can the bright and colourful junk world of Deponia, and the small backwater town of Kuvaq create yet another engaging adventure game?
Deponia is a junk world, separating the lower, working class citizens from the floating planet of Elysium where according to our main character Rufus; all of your dreams come true. Oh, dear Rufus, there isn't much good to say about the poor chap; meant for a life of grandeur, the Kuvaq born dreamer has always wished for better things much like his father, so when an opportunity literally falls in his lap in the form of an Elysian woman, all of his dreams suddenly seem possible.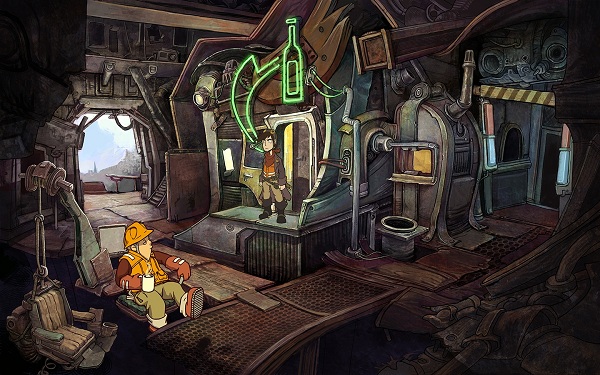 When the prominent Elysian Goal falls from an Organon ship onto Deponia, Rufus sees her as his ticket to leave the junk world behind to live his true dream and travel to Elysium leaving all of his responsibilities behind. Like most of his good plans, things begin to spiral out of control when Rufus accidentally 'breaks' Goal, however things look up when he gets into contact with her fiancée Cletus who looks a little bit like our unlikely hero.
Rufus is a bit of a loser, growing up on the junk planet he's as uncultured and boorish as an Elysian would expect, but he's got all the endeavour and pluck of a fearless child, and failed attempt upon failed attempt to reach the hallowed skies of Elysium just won't faze him, he's like herpes, the cool version or so he says, and whilst his attitude may get a little childish and immature at times, he is truly one of the goofiest characters you'll of met since Guybrush Threepwood.
Deponia is as much a character in the story as Rufus, Goal, or the gravely toned Lotti; receptionist for the town hall, despite being a planet full of junk, its colourfully bright and rusty hues creates a warm and friendly atmosphere, and despite the small town of Kuvaq having as much activity as a ice cream van in the height of winter, each quirky location from Lonzo's dingy bar to Gizmo's revolving Doctor/Fire/Police Station is full of character, you won't find any bland patches in Deponia where everything is that little bit more eccentric than your standard adventure game.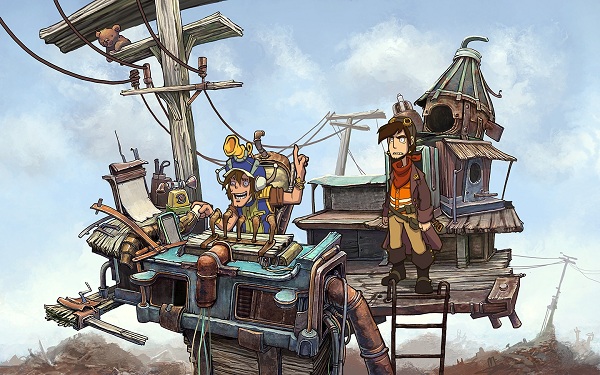 As with all good adventure games Deponia is full the brim with colourfully quirky characters and locations, but compared to the situations you'll find yourself in, all the craziness suddenly feels very normal, if you aren't slipping kittens coffee to distract the crazed robotic postal worker, then you're getting blood out of a mechanical bull.
The hint button that made The Whispered World such a hit with the adventure community is back, so you won't have to spend your waking life clicking on points that look interactive in the fully hand drawn environments, it's a dream come true to the more impatient among you, because every long-time adventure gamer knows that the key to their puzzle that they just cannot find was behind that door that they didn't realise they could move.
The majority of puzzles in Deponia are combination based, and to fully understand the logic behind some, you will truly have to immerse yourself in the oddball junk planet, because then trapping a live toothbrush, and crushing up chili's to make coffee would make a lot more sense, lets not generalise that the puzzles are frustratingly obscure, because they are a damn sight more logical than those in The Whispered World. Strange combinations aside, the game also contains a selection of traditional puzzles including a brilliantly clever mine car track shunting puzzle to keep you on your toes.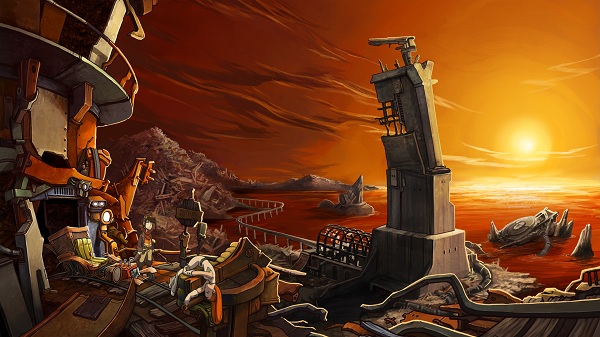 When Rufus' ticket out of Deponia turns sour and his dream come true turns to dust, it is satisfying to see exactly where the egotistical character's true heart lies, and whilst it may not culminate into a heart wrenching resolution, the ever mystical planet of Elysium never manages to lose its magnetic allure and everlasting promise of something better.
There is little of Deponia that can be faulted, and of the whole game and story, the only bad point that can be made; -not counting Rufus' attitude which can be a little hard to stomach- is that the UI is pretty minuscule, and at times it can be a little difficult to distinguish the small cogs and the different options available, and whilst it does not detract from the whole game, it is a little disorientating at first, otherwise all that we could see from Deponia was absolute gold.
Deponia is the truly goofy and charismatic adventure game that many were hoping for, it's oddball situations, insane combination puzzles and beautifully hand drawn comical style makes a fantastic addition to the adventure game collective and is a must buy, Deponia stands as yet more proof that the German's surely know the genre better than anyone.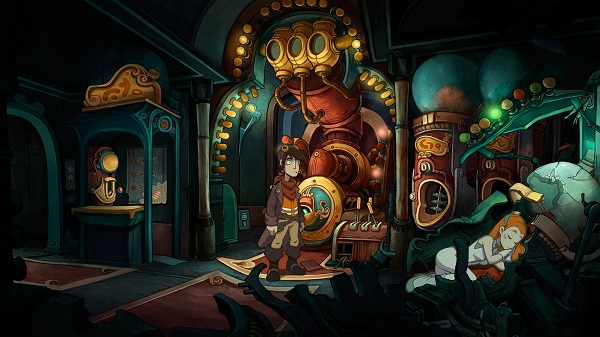 Deponia will be available June 29th 2012 in all good retailers and online distribution sites for the RRP of £29.99. Whilst it may not have the full emotional impact of The Whispered World, Deponia is a humorous and mad tale. If you're a bit like us a prefer something a little physical in your hands over a digital copy then you'll be overjoyed with Lace Mamba Global's release that comes in a beautifully presented box with the original soundtrack CD and poster.