Following our preview of the illustrious Deponia, we are sad to announce that the hotly anticipated adventure game from the award-winning Daedalic Entertainment has been put back to the second quarter of 2012.
Deponia is the point and click adventure with heart; brought to life with the detailed hand-painted backgrounds and fantastic high quality animation. If you didn't play last year's adventure game from the German developers The Whispered World, you are missing out, whilst you wait, why don't you give it a chance, and see just why we are really excited for Deponia.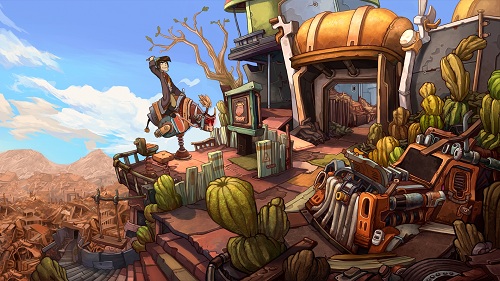 Deponia is a fast-paced comedy in what is being claimed as one of the most unusual love stories in gaming history. In a story filled with twists, it's off-beat characters live on the trash planet of Deponia, a unique world in the style of Adams, Pratchett and Groening. Deponia is brought to life through Kuvaq the improvised village built inside the trash heap, to the swimming black market and the dark corners of the elevated planetary railways.
With the game not actually released in it's native country of Germany yet, it is not wholly surprising to see a slight slip in release, however it still stands to be one of the most anticipated adventure games for 2012. Deponia should see a release some time during Q2 of 2012 for Windows.