Lace Mamba Global have confirmed the retail release date of the highly anticipated point and click adventure Deponia from the makers of The Whispered World and Edna and Harvey, and it's coming to the UK and Ireland so soon you can almost taste it!
The world of Deponia is brought to life with detailed hand-painted backgrounds presented in full widescreen format, and top-quality animation that just makes you wish that all games were developed in 2D.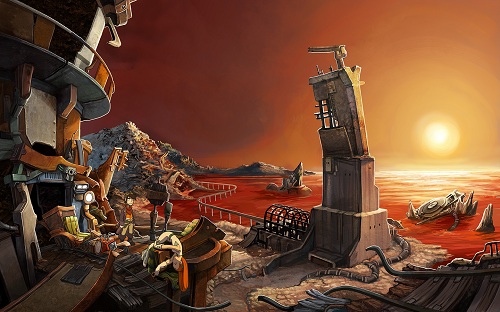 Deponia is a fast-paced comedy of errors and follows what is promised to be one of the most unusual love stories in gaming history on the trash planet Deponia styled upon the works of Douglas Adams, Terry Pratchett and Matt Groening.
In a strange twist, much like Sadwick from The Whispered World, our protagonist Rufus has his faults, he is not a pleasant guy, and the whole world should focus around him and his dreams of bettering his life and propelling himself from the trash planet to the floating cities full of wealth and beauty, in hoping to fulfil his dreams he goes from one unscrupulous plan to the next when a privileged individual falls from the sky beginning one of the many twists, turns and mixups that the game is full of.
Deponia is scheduled for a release June 29th for PC in the UK and Ireland, many have been waiting a long time for this beautiful hand-drawn game, we cannot wait!