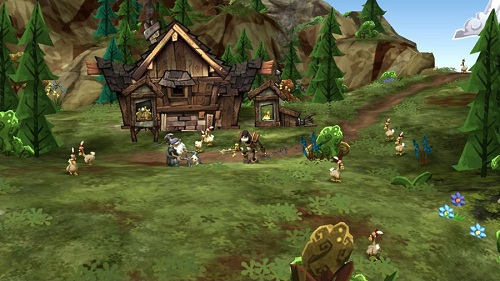 DeathSpank is a new downloadable title that was announced back in 2008, stemming from a character that Ron Gilbert had created in one of his Grumpy Gamer comics, DeathSpank is best described as Monkey Island meets Diablo, a fun and humorous RPG with the spirit of adventure games.
The playable portion of DeathSpank at the Showcase involved a quest to collect chicken lips given to you by a Demon Witch, with great dialogue and such an absurd quest goal it is obvious that DeathSpank is not your usual XBLA or PSN title.
It effectively plays with the addictiveness of missions from an MMORPG like World of Warcraft with the usual button mashing mechanics that you would find in a classic game like MediEvil, the quaint art style mixes the 3D world with additional 2D sprites for items and pick-ups, in a endearing and practically unique way, almost like Psychonauts meets Yoshi's Story, perhaps a bad analogy, but I know what I mean.
Boasting hundreds of armour and weapons to customise DeathSpank's arsenal, alongside advanced dialogue trees throughout over 15 hours of gameplay, the icing on the cake is the collaboration of legendary game designer Ron Gilbert in overseeing the whole project, we think that DeathSpank will most definitely be a great addition to the titles on XBLA and PSN, which it should be coming to this summer, pricing has not yet been confirmed, it is definitely worth a look if you are a fan of Diablo and adventure games to fulfil the void you have been missing your whole life.