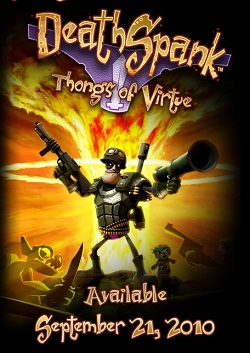 It snuck up on us like a ninja in the fog, Hothead Games have announced that a second DeathSpank game, DeathSpank: Thongs of Virtue will be coming to XBLA and PSN from September 21st.
Just like its predecessor, Thongs of Virtue will be filled with hundreds of weapons, armor, witty dialogue, crazy characters, strange villains and huge bosses. As always fun can be had in short uncontrollable bursts, or for hours on end, with a promised 10-15 hours of gameplay. Forget Sparkles the Wizard! Thongs of Virtue will see DeathSpank teamed up with Steve the Ninja if you have any friends that wish to take part in some unadulterated local co-operative play. Be sure to join DeathSpank in his quest for the six Thongs of Virtue that promises to bring much stuff, and fun to gamers.
DeathSpank was a tremendously fun arcade title that boasted huge amounts of gameplay and delivered, possibly one of the best downloadable titles that you can buy, we imagine that DeathSpank: Thongs of Virtue will not fail to deliver when it is released September 21st!