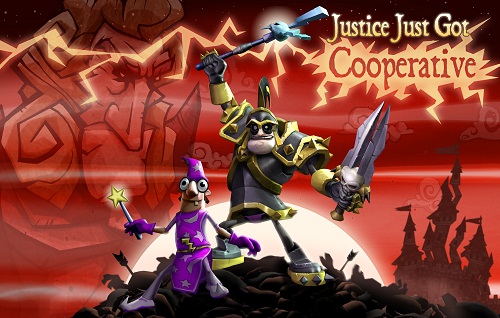 EA and independent developer Hothead Games announced recently that the upcoming downloadable action-RPG DeathSpank will be available for both the PSN and Xbox Live Arcade from July 14th. Meet a colourful cast of characters and vanquish evil in the hugely anticipated game developed under the direction of industry legend Ron Gilbert. DeathSpank combines Ron's unique humour and wit, with the fast, addictive action-RPG gameplay of Diablo or MediEvil. We had a play of DeathSpank when it was at the EA Spring Showcase, and can't wait to collect some chicken lips again!
Players assume the role of DeathSpank, dispenser of justice, vanquisher of evil, and hero to the downtrodden, on his epic journey in search of the mysterious magical artifact, known only as "The Artifact". The game also includes co-op gameplay that allows a friend to team-up with DeathSpank as his trusty magical sidekick Sparkles the Wizard, whose magical abilities perfectly complement DeathSpank's weapon based attacks.
On his journeys DeathSpank and Sparkles will do it all; rescue orphans, defeat local tyrants and help an aging adventurer as they dive into the epic action RPG that is full of loot, puzzles, witty dialogue, loot, weapons, fun action and loads more loot.
DeathSpank will be available for download from July 13th on PSN and July 14th on Xbox Live where it can be purchased for $14.99 and 1200 Microsoft Points respectively.