Shmup fans will have to wait no more as the Deluxe Edition of Deathsmiles is now set for release 18th February 2011. It may have been almost 4 years since the initial release of the highly acclaimed shmup in Japan, however Deathsmiles will mark the first ever Cave shooter to be released in PAL territories... sorry Steep Slope Sliders just doesn't have the same appeal.
Featuring three different game modes including Arcade, Xbox 360 and Version 1.1; which is an arcade conversion designed specifically for the Xbox 360. Deathsmiles also features a two-player co-operative mode, allowing players to take on hoards of enemies with a friend locally or via Xbox Live. This version of Deathsmiles also features the Mega Black Label pack which is an expanded version of the game that comes with a range of special features including an additional stage and an extra playable character.
Designed specifically for the PAL market, the Deluxe edition includes the official Deathsmiles soundtrack and desktop accessory pack, both of which were not included in the Japanese or US versions of the game, but were only released in Japan separately to the game. The soundtrack features 23 tracks and the desktop accessory pack allows fans to kit out their PC with exclusive Deathsmiles materials.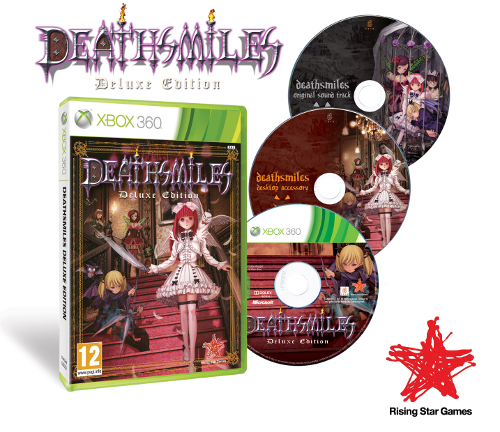 Deathsmiles will be available throughout PAL territories from February 18th, oh, and you can thank Rising Star Games. We have already!