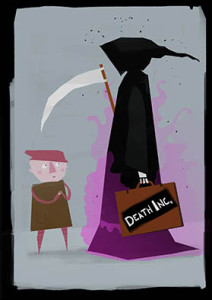 You may remember the adorably cute strategy Death Inc.'s announcement a month back, well today is February 4th and marks the launch of the game's Kickstarter campaign that aims to raise £300,000 to fund the game to completion with an expected release during Autumn 2013 for PC and Mac.
If you're a fan of your physical rewards when it comes to Kickstarter, then you'll love the Death Inc. pledges on offer that include boxed copies of the game, t-shirts, postcards, playing cards, soundtracks, and the ability to get your name or -if you want- likeness into the game!
In Death Inc. death is big business, and the Ministry of Mortality is the agency that deals with finding the recently deceased, and helping them on their way to their afterlife. It's not a multi-million pound making business, so when times get rough in Medieval England, you've got to try your best to spread the bubonic plague across the small island, and reap the most benefits!
The aim of the game is all about infecting as many peasants, serfs, wenches and nobleman as you can get your hands on and thwarting the forces of good while you're at it, it's looking pretty promising at the moment and we hope to hear and see more of the game soon.
Better yet, Ambient Studios have promised that Death Inc. will be the world's best simulation of travelling around 17th Century England infecting unsuspecting victims with the bubonic plague, so tell your friends, spread the word and get Death Inc. funded!