As avid collectors of video game paraphernalia we often get into the argument of North America vs. European collectors editions, you see Europeans feel that they are jibbed when certain collector's editions are released in the US, but Americans similarly feel that Europeans get a lot more exclusive collectors editions. Well thankfully EA are remedying the argument with their Dead Space 3 Dev Team Edition!
If you've not heard of it already, the Dead Space 3 Dev Team Edition comes bundled with a collection of fantastic physical collectible items including posters, statues and odds and ends, the only problem is Visceral Games are based in North America, so there's no chance that us in the UK will be able to order the limited to 5000 piece set… well that's where we are very conveniently wrong!
EA are producing two sets, whilst they both must be ordered from the US, one set comes bundled with the game and is available to North America only, and the other set is simply all the special bits! The Dead Space 3 Dev Team Edition is available for presale now at the official website for £63 for those outside of the USA, and £100 if you are in the USA and would like the Limited Edition Dead Space 3 game included.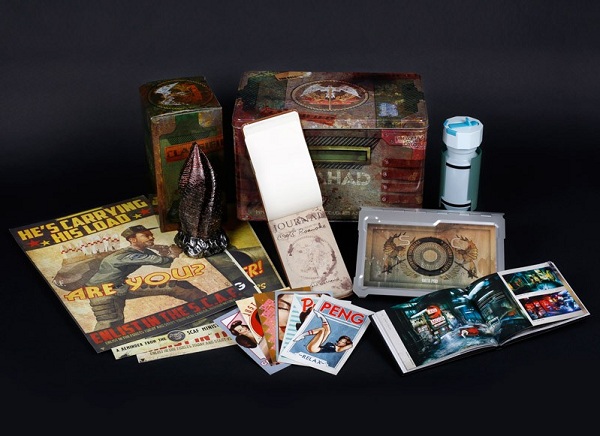 Dead Space 3 Dev Team Edition includes:
- Dead Space 3 Limited Edition (North America only) : Includes "First Contact" and "Witness the Truth" packs.
- Tin Collector's Case: Measuring nearly 14"x9," this case is covered with mysteries and trivia from all three Dead Space games, debossed with full color art based on the designs from Ben Wanat (Creative Director for Dead Space 3) and Dino Ignacio (UI Designer for Dead Space 3).
- Serrano's Journal: Dr. Earl Serrano's journal full of clues and haunting artwork of his findings on Tau Volantis has come to life with exclusive content by Chuck Beaver (Story Producer on Dead Space 3).
- Art Book: A 4.75"x6.5" hardbound book containing 96 stunning full color pages, plus exclusive material from the Dead Space art department headed by Alex Muscat (Art Director for Dead Space 3).
- Flip Book "Data Pad:" A 10"x7" book with a metal cover that contains 9 image sets made with clear PET cover sheets over heavy-weight cardstock. The flip book was designed by Dino Ignacio to be a functional prop version of the Dead Space User Interface in the game.
- Marker Statue: A 8" hand-sculpted, custom-molded polyresin statue that's coated in metallic paints to replicate the maddening glyphs of the Black Marker.
- Med-Pack: The med-pack in the game has been recreated as a 14 oz. PET water bottle, perfect for carrying your beverage of choice.
- Poster Pack: A set of three 5"x10" single-sided posters replicating the nostalgic posters found throughout Dead Space 3 that depict an older age of space travel.
- Postcard Set: A set of six 3.75"x6" Peng themed postcards, double-sided with art on the front and Dead Space-branded postcard information on the back.
Dead Space 3 is scheduled for a release February 8th 2013 on Xbox 360, Playstation 3 and Windows PC.