Fans of Dead Space will have Christmas come early as EA and Visceral Games announce that players will be able to step into Isaac Clarke's engineering shoes five weeks before the release of the highly anticipated Dead Space 2. The demo which will be available December 21st will allow players to explore the Church of Unitology whilst defeating the Necromorph outbreak in a gruesome battle on The Sprawl.
With a variety of the new tools at Isaac's disposal, players will get a good taste of Dead Space 2 with the new Javelin gun, the updated stasis recharge mechanic, and the new enhanced telekinesis ability. You might also notice that Isaac is now kitted out with an advanced suit; allowing him full 360 control in Zero-G Space with the help of handily placed jets.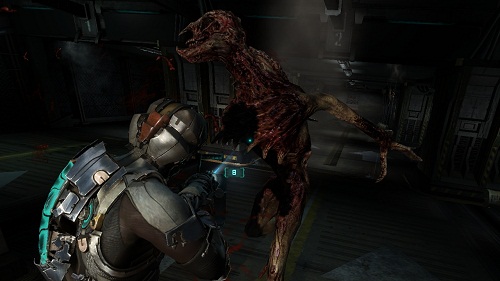 The release of the demo is just in time for Christmas, so fans of the original will have a terrifying holiday period as they find themselves in the middle of a relentless Necromorph outbreak. With the screeching cries of monsters, with the haunting echoes of space, Dead Space 2 will deliver a true horror experience that will bring the horrific thrills of deep space to a new level.
"The holidays are a great time to enjoy all forms of entertainment, and we can't wait to give horror and action adventure gamers a taste of what awaits them in Dead Space 2," said Steve Papoutsis, Executive Producer of the Dead Space franchise. "Releasing the demo five weeks before launch will not only re-connect players with our hero Isaac Clarke, but will also give them the opportunity to experience firsthand various jaw-dropping scenarios. It's gonna be awesome"
The Dead Space 2 demo will be available for download from December 21st on Xbox Live and Playstation Network, us European fans will have to wait an extra day for our demo however, just think though, you can be playing Dead Space 2 on Christmas Eve's, Eve's, Eve. Then it's only little over a month until the game is released January 28th for Xbox 360, Playstation 3 and PC. When you pre-order your copy don't forget about the Collector's edition!