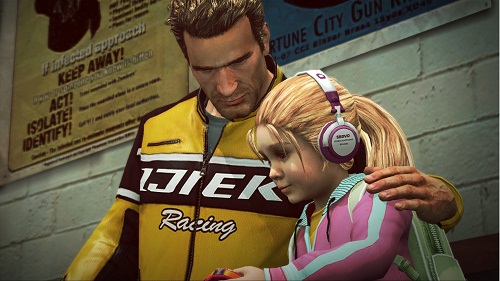 Capcom have confirmed that Dead Rising 2: Case Zero will be available August 31st exclusively to gamers via Xbox Live Arcade for a mere 400 Microsoft Points, Case Zero acts as a prologue introducing players to Chuck Greene and provides a glimpse of the action that will be inherent in Dead Rising 2 when it is released throughout Europe on October 1st.
Set two years after the Willamette incident with Frank West in Dead Rising, and three years before the events that take place in Dead Rising 2, Chuck finds himself trapped in the zombie infested desert town of Still Creek, with his infected daughter Katey. It's up to Chuck to find his way out of town and locate the Zombrex that Katey must take in order to prevent her from joining the ranks of the undead.
Players will be able to make use of Chuck's handyman skills, so get the duct tape ready as you combine items to create powerful combo weapons, which not only make your killing spree a lot more fun, but they also earn Chuck additional Prestige Points that result in faster levelling up.
"With Dead Rising 2: CASE ZERO we had two goals: provide newcomers with an easy point of entry to the Dead Rising universe, and give fans of the series an insight into what took place after Frank West survived the outbreak at the Willamette Mall," said Keiji Inafune, Capcom's Head of R and D Management Group and Executive Producer for Dead Rising 2. "We have certainly achieved both of these ambitions but I am equally pleased that we are able to give gamers so much unique and entertaining content at such a great price."
Plus, players that download Dead Rising 2: Case Zero and then buy Dead Rising 2 will be able to carry their character attributes over such as Player Level, Prestige Points, Combo cards and alternate outfits that Chuck can wear in Dead Rising 2 when it is released October 1st exclusively for Xbox 360.