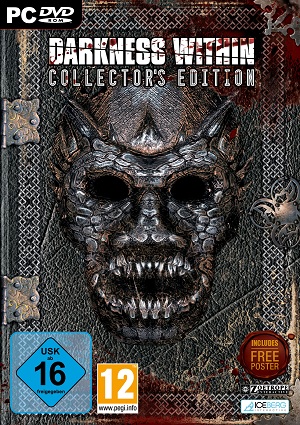 If you happened to miss out on one of the most atmospheric adventure games of 2010 then you are in luck, Iceberg Interactive have announced that they will be releasing a Darkness Within Collector's Edition that bundles together the classic Darkness Within: In Pursuit of Loath Nolder and it's chilling sequel Darkness Within 2: The Dark Lineage with a few bonus materials on the side.
The Darkness Within series is a fantastically spooky ride, and if you want a good scary night in, you've got no better adventure game series to do so with. It's brilliantly eerie atmosphere is built up with haunting music, sound design, and lighting placement that will have you hesitating at every sound. The unique hint system also breathes originality in the usual stale inventory system, and you'll find that solitary detective work is key in The Dark Lineage.
With both titles in the box you will also bear witness to the evolutionary steps that developers Zoetrope Interactive took in bringing a simple point and click like Darkness Within: In Pursuit of Loath Nolder, into a fully 3D atmospheric first person adventure game in The Dark Lineage. Details on the bonus material are yet to surface, hopefully we'll hear some news on them soon.
Iceberg Interactive Retail Sales Director Howard Newmark says: "Darkness Within has evolved into a superb mind boggling epic in the dark adventure games genre. Playing the Darkness Within games means slowly losing grip on reality and being sucked into a Lovecraftian macabre world where dreams and reality become one blurry nightmare. Expect things to get scary, dark and bizarre and don't keep your hopes up for that rosy ending."
The Darkness Within Collector's Edition is coming out Friday 13th May, so it's got some competition with the recently announced retail box of Zombie Driver for the first spooky Friday 13th of 2011. The Darkness Within Collector's Edition is available for pre-order now from the Iceberg Webshop with free shipping up until it's release.