If you are looking forward to the sequel to one of 2007's most inventive and story-driven shooters; The Darkness, then you might just want to pre-order it now.
2K Games have announced that customers that pre-order the standard game now, and for a limited time, will be upgraded to The Darkness II Limited Edition for free. Now don't get too excited, you do not get a darkling statue or replica gun in this limited edition; The Darkness II is all about in-game items;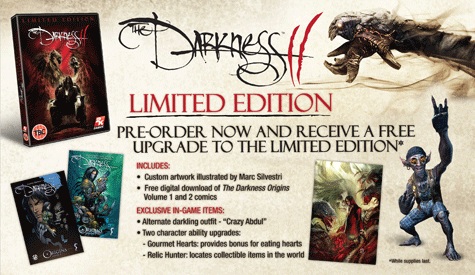 The Darkness II Limited Edition Includes:
Alternate darkling outfit: "Crazy Abdul"
Two character ability upgrades:
- Gourmet Hearts: provides bonus for eating hearts
- Relic Hunter: locates collectible items in the world
Custom illustration by Marc Silvestri
Free digital download of The Darkness Origins Volume 1 and Volume 2 comics
We had a play of The Darkness II at the MCM Expo, and had mixed opinions, however with the terrific story driven shooter promising just as emotional a ride as the original, we can't help but get a little excited.
Since the end of The Darkness, time has been well for Jackie, he is the head of the Franchetti family, and he's managed to put all of his troubles with Paul, Jenny and most importantly The Darkness behind him. However, life isn't happily ever-after for Jackie, after an almost successful hit on his life; The Darkness is reborn within him, and before he knows it, everyone is out to get him, and he's begun seeing Jenny once more.
If you are interested in pre-ordering the Limited Edition, you can do so online at; Game, Gamestation, Play.com, Amazon, Tesco, and Thehut. The Darkness II is scheduled for a release February 10th 2012 on Playstation 3, Xbox 360 and Windows.