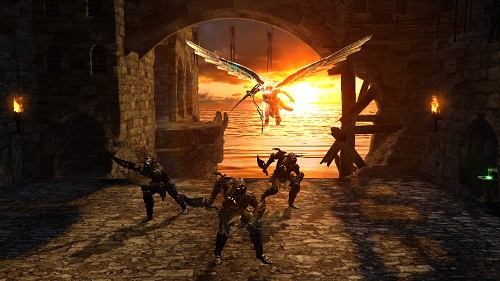 If you liked Dante's Inferno -which wasn't difficult- you'll be happy to know that by the end of April there will be new DLC that doesn't simply add a new level to the game; you'll be able to create your own content!
Choose to play as Dante or the beautiful and deadly St. Lucia of Syracuse and play co-operatively online to defeat online trials, and try and beat EA's dangerous trials for medals, and achievements/trophies, or create your own trials where you can control a combat editor, new locations, waves of enemies, scripting actions, adding traps and obstacles, then upload them and share your creations online, where they can be rated by other players across the world.
In case you missed it, The Trials of St. Lucia is not the first DLC for Dante's Inferno; The Dark Forest, was released at the start of this month, and develops Dante's back story, exploring his personal journey through the poem's opening scene. Back from the Crusades, Dante begins his passage home to Beatrice, and encounters a series of puzzles and combat trials on the way, eventually confronting the man who will set the events of Dante's Inferno in motion.
The Dark Forest also includes a ridiculous Disco Inferno costume for Dante; if you feel that a polyester suit is appropriate for battling damned souls, as well as a more useful 'Stone of Wrath' relic that when equipped reduces the mana cost of Dante's spells.
Dark Forest is available already for $4.99/ 400MS points and The Trials of St Lucia will be available April 29th on the Playstation PSN for $9.99 and the Xbox Live Marketplace place for 800 MS