Electronic Arts have announced that they will be creating two special editions for the highly anticipated FPS Crysis 2; the Crysis 2 Limited Edition, and the Crysis 2 Nano Edition, both editions feature premium packaging and unlockables for the multiplayer game.
The Crysis 2 Limited Edition will be available for no additional cost, while supplies last, and features four must-have in-game unlocks for the ultimate multiplayer experience:
Bonus XP — Players will jump into multiplayer battles with an edge by starting with enough experience points to gain early access to all 5 preset class load-outs.

SCAR Hologram Decoy — This special attachment to the SCAR will project a hologram image of the player, allowing them to confuse their opponents with the decoy.

SCAR Weapon Skin — This digital camouflage skin will allow players to add a personalized touch to one of the more popular assault rifles in the game.

Platinum Dog Tag — This special one-of-a-kind dog tag is one of over 250 that will be collectible in Crysis 2 multiplayer, helping to separate you from the rest of the field.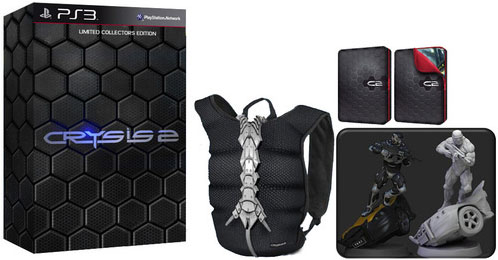 The Nano Edition is the one that only the most ultimate of Crysis fans will need, inside you get a copy of the Limited Edition version in a steel case, plus a 11" statue of 'Prophet' on top of a New York taxi cab, a high-quality art book, all packaged inside a backpack modeled after the Nanosuit's design. The Nano Edition will not be available in store, and will be available exclusively through the EA store, for pre-order at £119.99.
The Limited Edition can be pre-ordered now from all good UK retailers and the Nano Edition will be available for pre-order soon.