Following on from the original announcement of the Crysis 2 Nano edition, Electronic Arts have now placed it up for pre-order on the GAME website. The Crysis Nano edition claims to be for the ultimate Crysis fan, and includes the following items to keep you happy:
Limited Edition version of Crysis 2 in a SteelBook case

11" Prophet Statue

High-quality Art Book

Special Nanosuit Backpack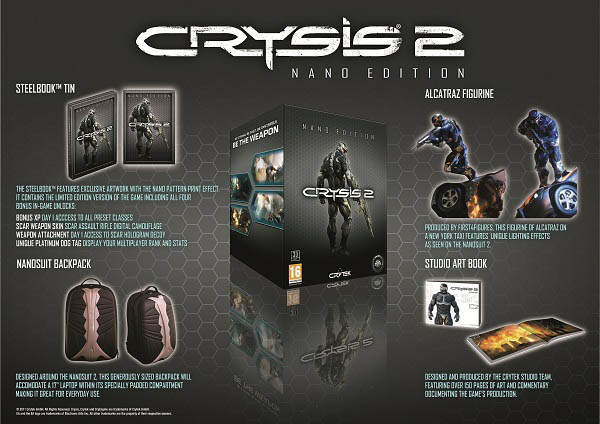 The Limited Edition version of the game which comes inside the Nano Edition also includes the following:
Bonus XP — Players will jump into multiplayer battles with an edge by starting with enough experience points to gain early access to all 5 preset class load-outs.

SCAR Hologram Decoy — This special attachment to the SCAR will project a hologram image of the player, allowing them to confuse their opponents with the decoy.

SCAR Weapon Skin — This digital camouflage skin will allow players to add a personalized touch to one of the more popular assault rifles in the game.

Platinum Dog Tag — This special one-of-a-kind dog tag is one of over 250 that will be collectible in Crysis 2 multiplayer, helping to separate you from the rest of the field.
We do agree that it must be for the ultimate fans of Crysis because it carries a price tag of £119.99 if you wish to spend that kind of money then head to the GAME website now to pre-order one before they're all gone. You can pre-order the Crysis 2 Nano Edition on Xbox 360, Playstation 3 and for Windows. You can still order the Windows version off the EA Store as well.