The newest and biggest patch for the critically acclaimed Crusader Kings II has just been released and it introduces a significant amount of new content and improvements for the unique strategy title, including the long desired crusades update.
The new content includes:
CRUSADES
- New Crusade System — The Pope declares the war and other rulers can join the attacking alliance with the ruler contributing the most gaining the targeted kingdom
- Coalition Armies — Armies can now be 'attached' to each other after which they will follow the lead army

EVENTS & PLOTS
- Two New Plots — Plot to revoke your vassalcau's title, plot to cut a more powerful fellow vassal down to size
- More than 100 new events (Friendship & Rivalries, Regencies and others)

DYNAMIC KINGDOMS
- Six New Kingdoms — Added the kingdoms of Frisia, Lotharingia, Bavaria, Pomerania, Aquitaine and Brittany

GAMEPLAY & FLAVOR
- New diplomatic options - offer to Join War, Matrilineal Betrothal)
- Causes of Death — See what characters have died of to determine whether they were murdered or not
- War Contribution Score — Participants in wars now get a contribution score which determines how much prestige and piety they get when the war ends
- Culture uncoupled from ethnicity
A lot of players have been waiting for the true crusades to get put into the game, so here's hoping that they're here for good now, and I don't know about you, but I've always wanted to find out exactly why my dynasty members have passed on, now thanks to the causes of death that is possible. The patch is fantastic news to fans, and its basically giving everyone what they've wanted since its release.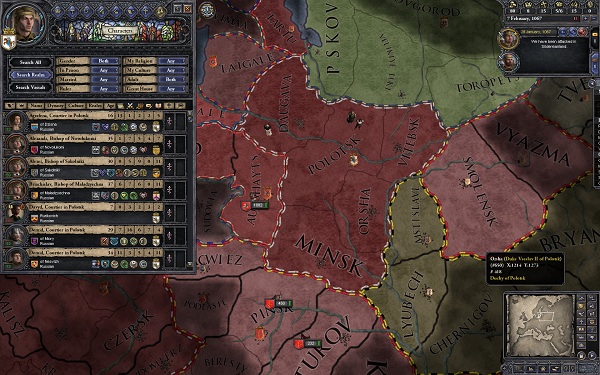 In addition to patch 1.05, several new DLCs have also been released including The Crusader Kings II Ruler Designer DLC allowing for full player character customisation when starting a new game, and music DLC that adds Songs of Albion, Songs of Faith and Songs of the Holy Land all created by Crusader Kings II's original composer Andreas Waldetoft.
Crusader Kings II is available now via all major distribution channels and selected retailers for the SRP of £29.99, it is one of the best strategy games released this year, and if you are looking for a change from your standard RTS affair, you cannot get any better than Crusader Kings II.