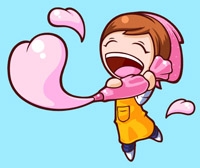 First we figured she could only cook, then she proved a dab hand at gardening, now Mama demonstrates she can craft with the best of us. Crafting Mama was announced today exclusively for the Nintendo DS, allowing players to create their own unique crafts, C.E.O of Majesco saw Crafting Mama as the natural addition to the Mama series, with crafting such a popular pastime it's a surprise that no one has really done it already.
In Crafting Mama, players will be able to create projects across a wide range of crafts, including earrings, candles, birdhouses and even little dolls. You will need to sew, mold, glue, cut and paint your way to crafting success. As an added bonus anything you create in the game can be used by Mama, and multiplayer support will allow you to craft along with a friend.
Sadly there are no images yet for Crafting Mama for us to show, but it should be hitting the shelves this Autumn.