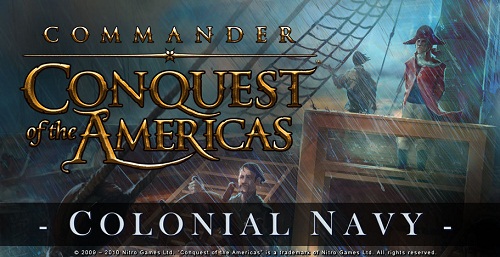 Paradox Interactive and Nitro Games have released the first set of DLC for the real-time strategy trading game Commander: Conquest of the Americas, the 'Colonial Navy' DLC that was offered exclusively as a pre-order bonus is now available to all for $4.99 via all digital download outlets that you can buy the full game from.
The DLC contains 3 new trade and war ships, 3 new resources with new production chains and buildings to cater for them, 7 new historical commanders, 1 for each nation, each with their own special skills, as well as 3 Historical Navy Battles.
The Historical Navy battles are; Cape Rachado, that was fought between the Dutch and the Portuguese in 1606. 1st Cape Finisterre that was fought between the British and the French in 1747 as part of the War of the Austrian Succession. As well as the Battle of San Juan de Ulúa which was fought between the English privateers and the Spanish forces in 1568.
If you didn't know about Commander: Conquest of the Americas before its release and wish to extend your gaming experience further, the new Colonial Navy DLC is perfect for history buffs, and fans of the greatly addictive trading strategy.
Colonial Navy is available now for $4.99 from all reputable digital distribution channels for Windows. If you don't own it already Commander: Conquest of the Americas is also available now for the SRP of £34.99, if you didn't see our review of the strategy game you can check it out here, definitely for those that love their trading games.