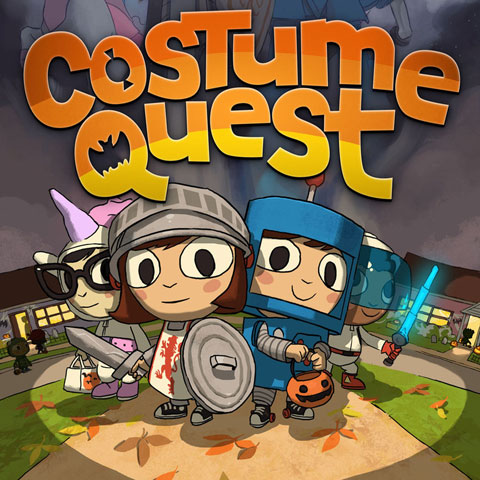 We return to Auburn Pines with the candy crusader twins Wren and Reynold who are once again required to protect Halloween from untold nasties! With a new selection of costumes, an upgraded battle system and a new story that will be every bit as cute and charmirific as the original, you're going to fall in love all over again. The game is coming our way thanks to a new deal with the indie label of Majesco; Midnight City.
Check out the strange, and somewhat nightmarish announcement trailer created for Costume Quest 2... you probably don't want to give it a view if you're on a diet!
Costume Quest unfolds on Halloween night across a suburban neighbourhood. In it you play part of a group of young friends who must rid their neighbourhood of monsters using their homemade costumes! In good-old Halloween fashion, players can go door-to-door collecting candy, cards, quest assignments and more as they prepare themselves for combat mode where they transform into larger-than-life versions of their costumes in an attempt to destroy the monsters, we can only hope for even more collectible cards, cause that's the best part!
Costume Quest 2 is part of a Midnight City and Double Fine team-effort and will be coming to PC and Consoles Halloween 2014,