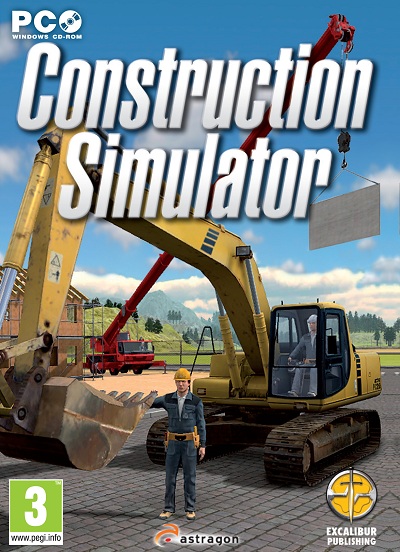 Games are all about destruction, if you aren't blowing up a building, you're shortening a life, there's very little constructive gaming that goes on these days, well you can't get more constructive than a construction simulator, so weltenbauer have pulled all of the construction based simulators of the past few years together and made Construction Simulator.
Your point of call is your office, it's actually the main menu and set up in a very nice interactive style, your construction site map will allow you to take part in any available jobs, with the work signs taking you to the gravel pit; sort of like a big sand box that allows you to drive around and try out all of your vehicles allowing you to get used to them without wasting your valuable time on a job.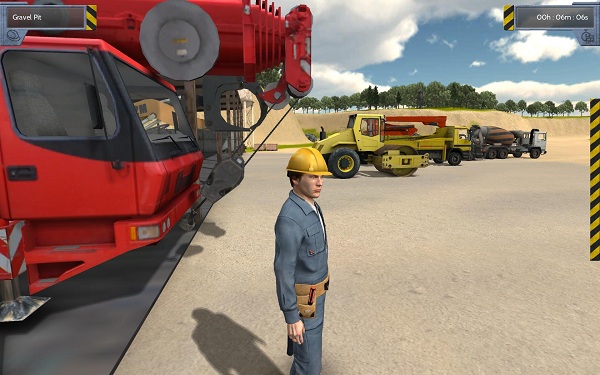 With eleven jobs spaced throughout the small town you'll be constructing anything from a swimming pool to the local school, and most run through a series of familiar stages that the simulator fans amongst you will recognise. Not a thing in the world can be built properly without foundations, so your first point of call on any job, will be to dig a hole, depending on its size you will either be given a digger or a mini digger, at this point you may be required to fill the foundations with concrete, lay pipes or simply start laying your walls, your jobs are all based around construction so you will get some that feel slightly like repeated missions, but there's nothing a real construction worker can do about it, so you can't complain.
What is best about Construction Simulator is that it really shows just how far simulators have come; with humble beginnings like Crane Simulator, Fork Lift Truck Simulator and Digger Simulator, all three simulators are thrown into one neat package whilst also integrating characters with your avatar; Fritz, and his boss Hans-Peter, as well as progressive gameplay and general gaming mechanics.
The game contains a lot of complicated machinery, so get ready for some complex operation instructions, it's not hard to get a little lost with all the different keyboard commands, however thankfully there is a neat window on the right of the screen that can be expanded to cover you on all of the controls of your current vehicle, very handy for those a little forgetful among us. Alongside keyboard controls, gamepads are also supported, however unfortunately the Xbox 360 controls are slightly jumbled, so it takes a little while to learn them, but it really pays off!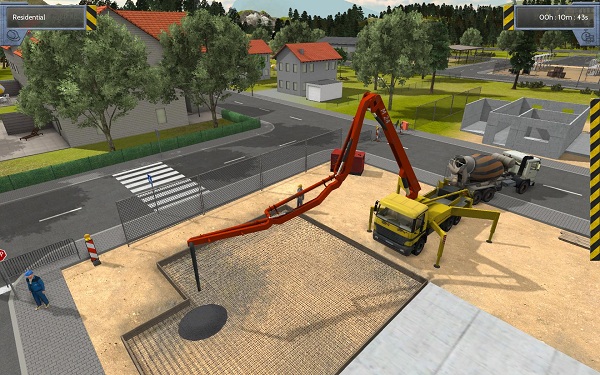 Whilst it is not a killer feature, or anything big by most games' standards, something that weltenbauer have included in Construction Simulator 2012 is a radio feature that allows you to put your own music into the game and play it on the in-vehicle radios - yes this has been around since the days of Grand Theft Auto III, however in a simulator where you spend 80% of your time behind a wheel, it is a great leap forwards.
Construction Simulator is a vehicular simulator through and through, and the main focus is truly on the vehicles; you'll be riding around in dump trucks, transportation trucks, forklifts, diggers, concrete mixers, telescopic cranes and even rollers, each looks remarkably well rendered, and they all control pretty well, occasionally you will get some jumping when weight and collisions are involved, however for the most part the vehicles handle really well.
Unlike similar sims, Construction Simulator does not give you a percentage figure to let you know how you are doing, which can get you a little lost on some missions when you appear to have filled foundations with concrete, but the section does not finish. Whilst this can get a little aggrivating at times, it teaches you to be a more discerning construction worker, and the true perfectionist will have no trouble in completing their tasks.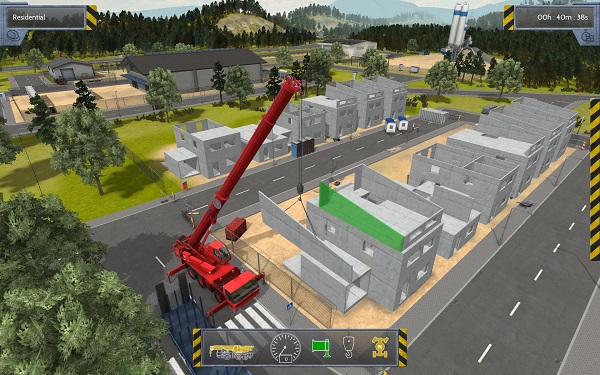 One of the best features of Construction Simulator is that despite the time most simulators require of you to complete a mission, the developers have separated sections into bite size chunks, allowing you to pick-up-and-play the game between constructing walls, digging holes and fetching materials. Gone are the days when a simulator demanded your attention for hours on end, in Construction sim it only takes about 30 minutes!
The vehicles all look spectacular, and with more eight to use throughout your construction career you've got plenty of variation. Whilst on a job you also have free roam of the beautiful little town, including the concrete works and builders merchant that you'll find yourself being a steady customer of. There's little to fault in Construction Simulator, with decent cameras, steady controls, and very nice graphics for a simulator there's no doubt it should be on your list to play next!

Construction Simulator is paving the way forward for the future of simulators; small features like the inclusion of the music folders, your avatar Fritz and the short dialogue systems are steps towards getting the genre recognised in its place of modern gaming.
Construction Simulator is available now in all good stores and online retailers for the SRP of £24.99.