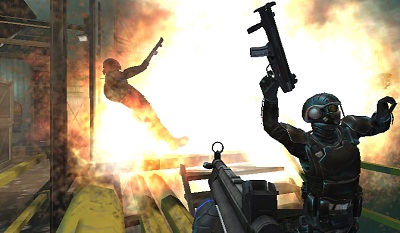 The Conduit much like Gamercast favourite Dementium, was also a hit miss title, players either loved the game, or hated it.
Well now SEGA and High Voltage Software have announced the sequel, The Conduit 2, which is once again a Nintendo Wii exclusive, set to be released in the autumn of 2010.
Conduit 2 builds upon the original title, but expands it out further to the far reaches of the world to stop the continuing alien invasion which players can now not only fight off in single player mode, but also in online multiplayer battles and online co-op modes. Armed with more advanced and powerful weapons in dynamic environments and cinematic battles you must defeat more alien scum.
The online co-op play is a new feature to the Conduit 2, called Team Invasion Mode, it allows players to be able to play with up to four of their friends on the same screen (of course this means you will have to play the game split screen, which is alright if you have big TV though. However if you have a little TV and your Wii friends don't live close by you can also play Team Invasion mode online with friends.
With the new added co-operative play, the support of Wii Speak has also been added, to enhance the multiplayer action, so you can shout at your friends when they do the wrong thing.
"The Conduit 2 will set a new bar for online multiplayer games on the Wii with great new gameplay modes and improved security. On top of that Conduit 2 features a fantastic new single player adventure that will blow the minds of fans of the original game," said Gary Knight, European Marketing Director at SEGA Europe.
We're all for SEGA saying they will set a new bar for online multiplayer as they state, although with Monster Hunter Tri and its solid online multiplayer coming out soon, I'm veering towards Monster Hunter Tri myself, but only time will tell.