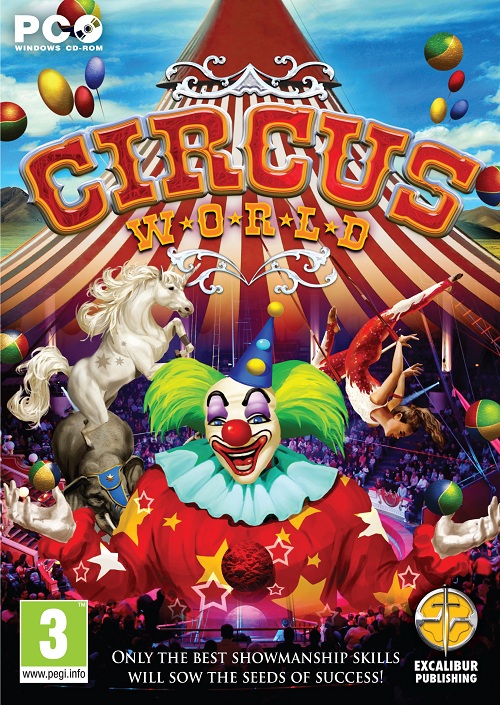 Are you ready to manage the greatest show on earth?... Well Cardiff! Book up your big top and stock up your gift shop and prepare to welcome the masses into Circus World, a new management sim from the folks at Excalibur Publishing's in-house development team.
Circus World comes with two main game modes; Challenge and Career, now despite what you may think, Career mode is more of a straight up sandbox, you won't be given any tasks, just free roam of your Circus and the ability to do what you please. However if you are starting out with the game then you may want to head over to Challenge mode which acts as somewhat of a tutorial, giving you tasks and general pointers at what actions should be taken to better your circus.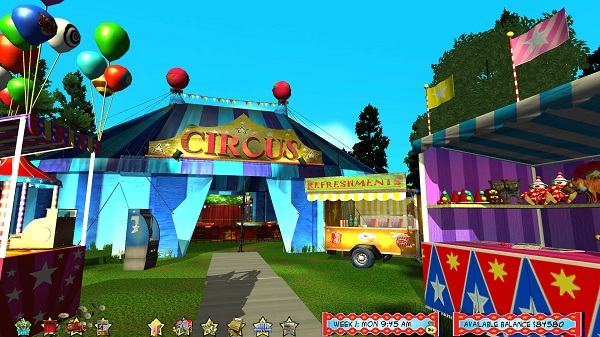 Unfortunately from the very start of your circus management career you'll have a fairly lifeless site, unlike your standard park management games you won't have visitors milling about playing on the attractions and going to the toilet, now whilst it makes your circus look pretty dull you'll soon get some life into it when you purchase stalls and stands that add static public members to your once empty extravaganza, there's a certain missing from the game that you would otherwise find in Theme Park, but there's not much that can be done about it.
To look at Circus World from its exterior, there doesn't appear to be a lot going for it, with very basic 3D graphics, some quite elementary animations, and a lack of real character it is actually a really enjoyable game, one that you can't stop playing, although you aren't entirely sure why.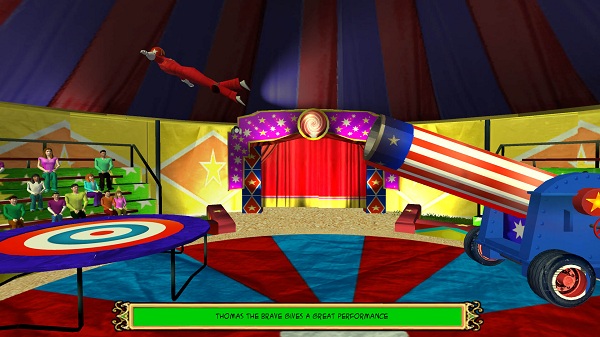 You'll need to book performances if you want to appease your visitors, as your audiences are primarily drawn to your show. With a wide range of performers for hire, you can pay out the big bucks and get some top-rate entertainment, or scrape the barrel with the best you can afford ranging from Ringmasters, Clowns, Jugglers, dogs balancing on balls, tigers, elephants and Strongmen. Once hired you can set them up in your show, messing around with the order of their performances, and wait for 2pm to come around to check out your entertainment and make sure that none of your acts are slacking.
Whilst the performance is the big show, you really rake the money in by added attractions to your site such as the coconut shy, merry go round, strength test even an ATM will help to bring in that extra bit of money from your ticket holders, each attraction is simply purchased with a one-off fee and must be maintained everynow and again as everything degrades somewhat over time.
Everyone knows when the circus is coming to town, and you can be just as persistent in Circus World by running advertising campaigns in newspapers, on the TV, radio and even offer concession tickets in advance of your opening and during your stay with a little investment of your money in exchange for a few more heads.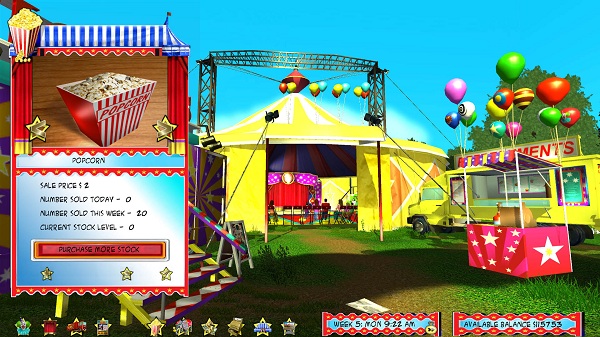 Like any good management game, the most fun is had in the gift shop and refreshment stall; one of your main sources of income. However that income won't just keep trickling in, if you run out of wares then you'll find no good come of your stalls, and keeping the most popular items stocked with a generous mark-up is exceedingly fun to juggle, especially when the prices of commodities rise and fall.
Compared to the big guns, Circus World is a little barebones, and whilst it encapsulates everything you would want and expect of a park management sim, it's missing the pizzazz of the 'little things'; there's no true time compression in the traditional sense, and other than the audience appreciation engine you get no real feel of what your visitors want, how they feel about the prices of soda, and whether or not you could hike up the prices of your entry tickets.
No circus can stay in one spot, and rightfully so, you can send your circus to a number of locations across the World starting with the UK including towns such as Edinburgh, Manchester, Aberystwyth, London and Cardiff for a number of specified days. Excalibur really missed a trick with the scheduling and unfortunately you are unable to look ahead for the next few months and book up the cities of your choosing. However if you aren't feeling the love of touring the gloom of the UK for months on end, you can take your Circus to Europe and the World to a host of exotic locations once you've earnt the big bucks!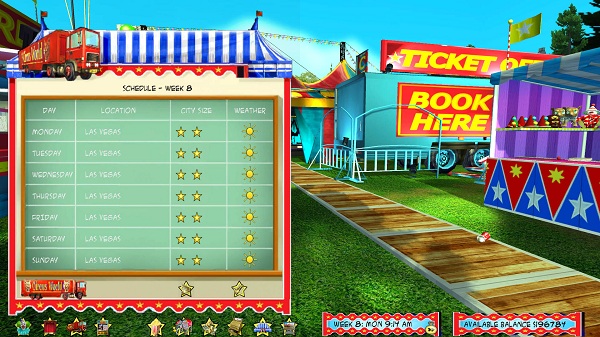 Rather than having to deal with the hassle of hiring staff like cleaners and maintenance men, all you really need to worry about is booking your performers. In Circus World you are your own maintenance man, cleaner, manager and accountant. You balance the books, pick up litter, keep an eye out and maintain stalls, stands and game kiosks, just get ready to pick up a lot of litter, people these days are really inconsiderate!
Despite the faults of the game, when you look past them all, and focus on setting up your circus, moving from town to town, selling your wares, and upgrading your circus, there's a pretty addictive management game within.

Circus World is available now on Windows PC in all good retailers and online stores for the SRP of £24.99, and will be heading to Apple Mac October 26th.