For those that have never heard of Rez (you crazy people) it is one of Tetsuya Mizuguchi's creations, Mizuguchi is the founder of Q? Entertainment who have made great games such as Lumines, Every Extend Extra Extreme and Ninety-Nine Nights. However Mizuguchi really shines when it comes to creating games with a heavy focus on music as an aid almost to gameplay. Before Mizuguchi founded Q? Entertainment he worked at SEGA, the first games he worked on being the SEGA Rally series, Space Channel 5 and Rez.
Rez was released near the end of the Dreamcast's life (at least in the UK and America) which meant it had quite a limited release, Rez falls into the category of being a rare game on the Dreamcast, making it quite hard to get a hold of, it was then later released on the PS2, which makes it a lot easier to get a hold of for fans. Then six years later Rez was ported to the Xbox 360 to make Rez HD, which allowed Mizuguchi's true vision of the game in high-def widescreen with amazing sound to come to life.
Rez is an on rail shooter that follows a hacker who is trying to travel to Eden to give it a reboot, while destroying any viruses or firewalls that get in the way. This story is then accompanied with a lock-on in a shooting mechanic that allows you to kill multiple viruses in concession, creating a beat determined on how you perform. Now this may not make sense for those that haven't played it, I do recommend at least downloading the trial off the Xbox Live Arcade Marketplace to see how it plays, however I recommend even more that you buy the game.
Child of Eden throws the player into the middle of a battle to save Project Lumi, which is a mission attempting to reproduce a human personality inside of Eden; the archive of all human memories. While the project was drawing to a close the archive was invaded by an unknown virus, and once again you're trying to save the system from this virus in order to bring peace and completion to the project.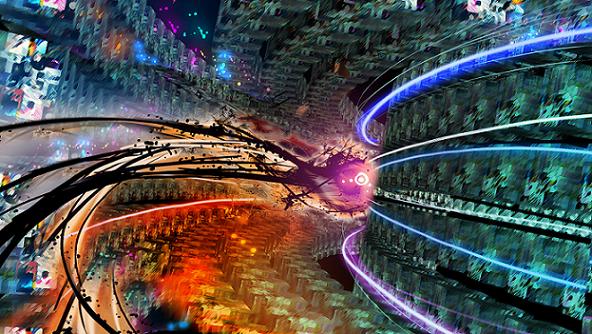 Taking full use of Microsoft's Kinect the player will be able to merge themselves into the game, allowing a new experience and way to play an on rail shooter, not many details have been announced on the game, but we can't wait to hear more. Kinect is starting to get exciting with a variety of interesting games being announced, Gamercast will definitely be picking one up and paying close attention to all Child of Eden announcements in the future.
Child of Eden is being published by Ubisoft and is scheduled for a release in the first quarter of 2011 on Xbox 360 and Playstation 3