It's official one of my most hyped games of this year is getting a full English translation and release in the North America thanks to the lovely people at Atlus, and the game in question is Catherine.
Catherine is Atlus' newest title from the Persona team that was very recently released in Japan on Xbox 360 and PS3, notably the teams' first game for the seventh generation of consoles. Prior to the announcement of a US release from Atlus those lucky people with a Japanese 360, or those who want it on PS3 could import a Japanese version of the game, but you'll find yourselves in a similar position to myself where you're really enjoying this game but sadly don't know all of what is going on, unless you're fluent in Japanese. Well all your worries are now over because come the summer you will be able to enjoy Catherine in English and understand exactly what is happening along each step of the story.
Of course if you're reading this and based in the UK like myself you can either import it (and have a PS3 or US Xbox 360 depending on the region lock) or you can wait and see if a lovely UK based publisher will bring it over to our shores.
Catherine takes place in a small neighbourhood where there has been bizarre occurrences of deaths in young men who happen to die in their sleep with a look of fear on their face. While all this is afoot you jump into the story of 32 year old Vincent who is being pressured into the ideas of marriage with his long time girlfriend Katherine. However strange things start to happen and you're left questioning exactly what is going on.
Catherine is full of exciting strategical puzzles that are padded out with long in-depth cutscenes, dialogue moments and the casual ideals of walking around a bar. However don't think just because it's a puzzle game it'll be a walk in the park, be prepared for steadily increasingly difficult puzzles to cause swearing and the thought of quitting. As long as hang in there and pay attention to what people say to you when in relation to solving complex puzzles you'll get the hang of it soon enough.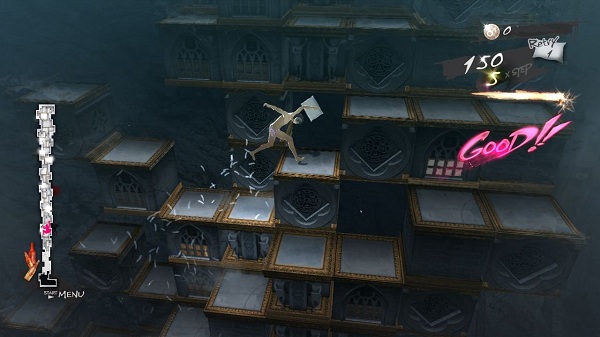 Catherine is currently set for launch on July 26th in North America and you can pre-order it from the likes of Amazon, Gamestop and Video Games Plus. I highly recommend it for any fans of Studio 4 degrees, the Persona team or someone whose up for a tough challenge. I for one honestly cannot wait to play through Catherine again and know exactly what is going on in the dialogue, phone calls and text messages.