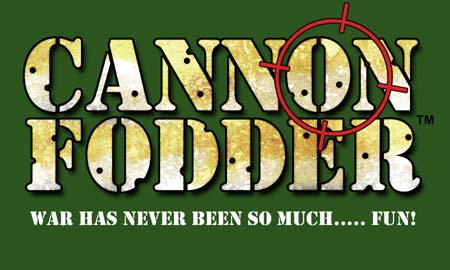 Cannon Fodder is back! Yes the loveable action-based isometric shooter will return in Cannon Fodder 3 to make the long awaited sequel in the series that hasn't seen a new game since 1993. GFI have announced development of the tactical action game under the license of Codemasters.
In Cannon Fodder 3 several military groups of Europe, Asia and Africa have made a military alliance to establish a dictatorship, and it is your goal to stop them at any cost with cannon fodder. You will have control of a small army consisting of only cannon fodder soldiers that will stop at nothing to attack the enemy, even if it means their lives. Cannon Fodder 3 is set to take place over several episodes among different locations, including some outside of the Earth as Cannon Fodder takes to space!
The game is promised in the classic isometric environment, whilst encompassing full 3D, weather effects, change of time, destructible environments, physical water and more, Cannon Fodder 3 is going to be absolutely amazing! Unfortunately there are no screenshots of the title yet.
Currently in development for PC and Xbox 360 I would hope that they are thinking of a Xbox Live Arcade title release, because Cannon Fodder is the perfect game for the pick up and play ideal that most XBLA titles subscribe to.